Sabotage (Dual Format Blu-ray and DVD)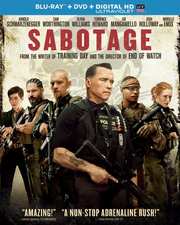 Certificate: 15
Running Time: 109 Mins
Retail Price:
Release Date: 08/07/2014
Content Type: Movie
Synopsis:
Arnold Schwarzenegger stars as the commander of a DEA task force in this action thriller from director David Ayer. A close-knit group of DEA agents, led by John 'Breacher' Wharton (Schwarzenegger), raids a drug cartel safe house which results in the arrest of a major crime lord and the discovery of a large stash of money.

When ten million dollars of the cash disappears the task force falls under suspicion and John realises one of his agents might be responsible. The cartel begin to kill off the team one by one and the situation becomes even more tense when John's family are kidnapped. Can he bring down the cartel and save his family?

The cast also includes Sam Worthington, Olivia Williams, Mireille Enos, Josh Holloway and Joe Manganiello.

Based on R-Rated Region 1 Release.
Special Features:
Making Sabotage – a behind-the-scenes look at the production.
Alternate Endings
Deleted Scenes

Related Websites:
http://www.lionsgatefilms.co.uk/uk/

Directed By:
David Ayer

Starring:
Arnold Schwarzenegger
Sam Worthington
Olivia Williams
Mireille Enos
Josh Holloway
Joe Manganiello

Distributor:
LIonsgate Home Entertainment UK Ltd