Michiko and Hatchin - Part 1 - Limited Edition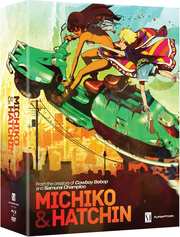 Two against the world
Certificate:
Running Time: 249 mins
Retail Price: $69.98
Release Date: 2013
Content Type: TV Series
Synopsis:
Michiko is a stunning escaped convict with lethal looks and a deadly disrespect for the lawmen trying to hunt her down. Hatchin is a hapless orphan pushed to the breaking point by the sadistic spawn of her fiendish foster parents. On their own, these chicas are nothing more than a Yin searching for its Yang, but when fate - in the form of a mysterious hombre from their past - brings them together, the world better watch out!

With the future dead-ahead and la policia hot on their heels, Michiko and Hatchin burn rubber through exotic locals where danger lurks around every corner. It's two against the world in this sun-soaked, Latin-tinged tale of partners in crime who won't stop running till they chase down a dream.

Contains episodes 1-11 on Blu-ray and DVD.
Special Features:
Select Episode Commentaries
Michiko: The Woman Behind It All
Unveiling Press Conference
Liveaction Promo Video
Anime Promo Video
Textless Songs
Trailers

Limited Edition comes with artbox to contain both volume releases.

Video Tracks:
1.78:1 widescreen 1080p
1.78:1 anamorphic widescreen (DVD)

Audio Tracks:
Dolby TrueHD 5.1 Surround English
Dolby TrueHD 2.0 Stereo Japanese
Dolby Digital 5.1 Surround English (DVD)
Dolby Digital 2.0 Stereo Japanese (DVD)

Subtitle Tracks:
English

Directed By:
Sayo Yamamoto

Written By:
Takashi Ujita

Starring:
Suzuka Ohgo
Yoko Maki
Jun Murakami
Kanji Tsuda
Ken Mitsuishi
Maki Sakai
Masaki Miura
Jad Saxton
Monica Rial
Akron Watson
Brandon Potter
Christopher Bevins
Sametria Ewunes
Scott Freeman

Music From:
Kassin

Director of Photography:
Kazuhiro Yamada

Editor:
Tomoki Nagasaka

Producer:
Koji Yamamoto
Shinichiro Kobayashi
Shinsaku Tanaka
Takashi Kochiyama
Yoshinori Takeeda

Executive Producer:
Hisao Iizuka
Kenichi Komori
Katsuji Nagata
Kazuya Watanabe
Hiroko Yamada

Distributor:
Funimation Entertainment