Filling the Void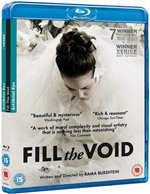 Certificate: U
Running Time: 91 Mins
Retail Price: £19.99
Release Date: 14/04/2014
Content Type: Movie
Synopsis:
Eighteen-year-old Shira, an Orthodox Hassid living in Tel Aviv, is looking forward to marrying a handsome, promising boy of her own age.
But when her elder sister dies in childbirth and the father considers leaving Israel to re-marry, Shira's mother proposes a union between her daughter and son-in-law to keep her only grandchild in the country. Shira must then make the terrible choice between her heart's desire and her family duty.

As tense and gripping as any thriller, this fascinating insight into a largely closed-off world is a breathtaking exploration of the struggle between family bonds and individual freedom that has heralded its director as a bold new voice in contemporary cinema.
Special Features:
Commentary with actress Hadas Yaron & writer-director Rama Burshtein

'Writer's Block': Q&A with Hadas Yaron and Rama Burshtein

Theatrical trailer

Related Websites:
http://www.artificial-eye.com/film.php?blu-ray=ART099BD
http://www.moviemail.com/film/blu-ray/Fill-the-Void/?utm_expid=298190-9.IWIJnsi-RxOq8CQswSJnVg.0&utm_referrer=http%3A%2F%2Fwww.artificial-eye.com%2Ffilm.php%3Fblu-ray%3DART099BD

Directed By:
Rama Burshstein

Written By:
Chayim Sharir, Hadas Yaron, Hila Feldman, Irit Sheleg, Razia Israeli, Yiftach Klein

Distributor:
Artificial Eye