Hell Comes to Frogtown (Dual Disk)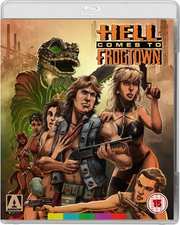 Certificate: 15
Running Time: 87 Mins
Retail Price:
Release Date: 03/02/2014
Content Type: Movie
Synopsis:
With the 20th Century drawing to a close, nuclear war has wiped out civilization as we know it. The embattled human race's last remaining hope lies with one man and his loaded weapon.

Sam Hell may be an ex-con, but he also happens to be one of the last surviving fertile men on the planet. Now, under the custody of a group of feisty female fighters, Sam finds himself enlisted on a mission to impregnate a harem of beauties. Sounds cushy enough, but the ladies in question are prisoners of Frogtown - home to a gang of mutant (and ill-mannered) amphibians!

Starring wrestler-turned-actor Rowdy Roddy Piper, known to John Carpenter enthusiasts for his body-slamming and bubblegum-chewing antics in They Live, Hell Comes to Frogtown is unashamedly a B-movie through and through with more guns and girls than you can shake a frog's leg at.
Special Features:
Grappling with Green Gargantuans: Wrestling icon "Rowdy" Roddy Piper speaks about his leading man turn in Hell Comes to Frogtown

Amphibian Armageddon: Actor Brian Frank remembers his role as Commander Toty

Creature Feature Creator: Effects wizard Steve Wang reveals the secrets behind Hell Comes to Frogtown's mutant manifestations

Reversible sleeve with original and newly commissioned artwork by Jeff Zornow

Original Trailer

Collector's booklet featuring new writing on the film by author and critic Calum Waddell

Related Websites:
http://www.arrowfilms.co.uk/hell-comes-to-frogtown/

Directed By:
Donald G. Jackson, R.J. Kizer

Starring:
Roddy Piper, Sandahl Bergman, Rory Calhoun, Cec Verrell, William Smith, Nicholas Worth