K-20: The Legend Of The Black Mask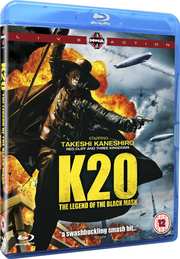 No one has ever seen his face... He could be anyone...
Certificate: 12
Running Time: 137 mins
Retail Price: £19.99
Release Date: 2011
Content Type: Movie
Synopsis:
In a land held captive by tyranny and injustice the courage of one will stand alone against freedom's darkest enemy!

Based on the best-selling graphic novels, K-20: The Legend Of The Black Mask is a big budget swashbuckling action epic combining elements of Zorro, Robin Hood and The Batman and starring Takeshi Kaneshiro (Red Cliff, Warlords) one of the hottest actors in Asia right now.

It's 1949 and World War II never happened. Nikola Tesla has just won a Nobel Prize rather than dying in obscurity and the Japanese Empire is an undying aristocracy where the rich sip tea out of bone china, while the poor die in the gutters. K-20, the Fiend with Twenty Faces, steals from the rich and gives to himself. But now, on the eve of the marriage between society princess, Yoko Hashiba, and chief of police, Kogoro Akechi, the fiend frames simple circus acrobat Hekichi Endo (Takeshi Kaneshiro) for his crimes and the poor sap is arrested and sentenced to death. But he escapes at the last minute and assumes the guise of K-20 in order to clear his good name.
Special Features:
Behind the Scenes
Cast Stage Greeting Part 1
Cast Stage Greeting Part 2

Video Tracks:
2.35:1 widescreen 1080p

Audio Tracks:
DTS-HD MA 5.1 Surround Japanese
Dolby Digital 2.0 Stereo Japanese

Subtitle Tracks:
English

Directed By:
Shimako Sato

Written By:
Shimako Sato
So Kitamura

Starring:
Takeshi Kaneshiro
Takako Matsu
Tôru Nakamura
Kanata Hongô
Yuki Imai
Takeshi Kaga
Jun Kunimura
Tôru Masuoka
Reiko Takashima

Music From:
Naoki Sato

Director of Photography:
Kôzô Shibasaki

Editor:
Ryuji Miyajima

Production Designer:
Anri Johjo
Anri Kamijô

Producer:
Chikahiro Ando

Executive Producer:
Shuji Abe
Seiji Okuda

Distributor:
Manga Entertainment