Review for The Wicker Man
The Wicker Man

Director: Robin Hardy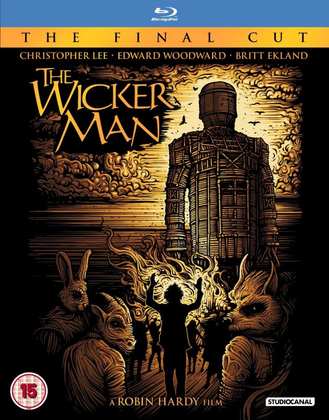 "What is all this... You've got fake biology, fake religion... Have these children never heard of Jesus?"
Introduction
The Wicker Man needs little introduction. Made in 1973, Robin Hardy's artful, thoughtful film attracted good critical notices, and was enthusiastically championed by star, Christopher Lee. However, it also suffered from the old issue of belonging to nervous distributors, unsure of how to market the film, terrified of its downbeat nature. The result was film long butchered and available in a truncated cut, which descended into a much greater degree of obscurity than it deserved, for many years. In truth, such mis-treatment perhaps only added to the allure and cult of The Wicker Man.
My own first experience of seeing the film, came from a trip to Manchester when i was about Fourteen, and just really beginning to discover horror films properly. I'd quickly developed a taste for Hammer horror, and in my youthful, twisted excitement, actually thought The Wicker Man was also a Hammer release- probably because of the casting of Christopher Lee as the lead villain. As I perused the stands of a Market in Manchester, I happened upon a guy who sold a bunch of VHS tapes, many of which were older releases, One of these, was the original, pre-cert VHS of The Wicker Man, which I promptly picked up for just £3.50. I was mesmerized instantly; I knew it was something special. Sadly though, at some point in my teenage years, I elected the film no longer necessary in my collection, trading it for about £35 worth of tapes!
I'm sure anyone reading this review will have their own strange tales of first encountering the film , which certainly sticks in the memory like few before, or indeed since. Timed to coincide with the 40th anniversary of the film's release, Studio Canal's new edition is billed as "the Final Cut". The distributors originally intended to release the long-lost "original cut" or "long version", but it became apparent quickly, that it was not possible. Instead, "The Final Cut" is a 94 minute version, based off that which Hardy himself assembled in 1979, with much of the material from the later, 102 minute "Director's Cut" included. It is this new version, that is now Hardy's preferred incarnation. Whew!
Film
Sergeant Neil Howie (Edward Woodward), arrives at Summerisle, a remote island, having received an anonymous letter. He's investigating the disappearance of a young girl, but immediately finds himself faced with reluctance from the locals. A devout Christian, Howie is outraged by the openly sexual behaviour of the pagan islanders, and their insistence on making life difficult for him. As the plot progresses, details of the girl's absence emerge, which leads him to believe something even more sinister is afoot. Meanwhile, the leader of the seemingly cult-like villagers, Lord Summerisle (Christopher Lee), arranges their May Day Celebrations, as we are drawn towards a horrific climax.
The film is rather gently paced, as Howie attempts to investigate the townsfolk go about their business, conveying a sense of the ordinary within the extraordinary. Cue orgies in the open, and curiously withdrawn children, while barstools burst into malevolent folk songs.
Clues comes fast and thick, be it an empty desk in the classroom, an ominously missing photograph, or indeed, Rowan Morison's name on a register. But the mystery of her disappearance is besides the point- it's the uncovering of why Howie is there investigating it that becomes the real case.
It's this sense of being plunged into an otherworldly place that provides much of the suspense. There is not a comfortable moment to be found for Howie. There's a brazen lack of respect for the law; for his law, and his world.
While Howie's calls over a megaphone to the harbour master from the water to send a dingy are met with reluctance, we slip into his viewpoint. His sea-plane rocks in a nauseating, less than comforting manner. Strangers watch him intently , viewing his movements with apparent suspicion. Scenes of the locals sporting masks depicting Rams, Hares, Badgers, and other animals are genuinely disturbing, as is a strangely horrifying moment in which a child plays dead. There's malice to be found in every nook of Summerisle's landscape.
The performances of Christopher Lee and Edward Woodward are among the most appealing aspects of the Wicker Man. Lee's is arguably the finest moment of his career. He brings a charm that is both alluring, and genuinely terrifying. Summerisle is for this viewer's money, equally as pivotal a moment within Lee's repertoire, as the part of Dracula.
When Howie throws the question,"What of the true God?" at Lord Summerisle, it's clear that he represents the established religious order, and his firmly entrenched in it's wayward traditions, that he cannot even conceive of a different set of beliefs. A narrow-minded, ignorant, almost fundamentalist Christian, his staunch approach is uncompromising. And yet despite the fact that Howie himself is enormously unsympathetic, the viewer never rallies against him.
Likewise, Britt Ekland's saucy naked seduction scene has gone down in history as an iconic moment in British horror cinema. But it's more than just an arousing gyration, it is a genuinely haunting moment, accompanied by the staggering lyrics of "how do".
In general, Paul Giovanni's apparently gentle music feels increasingly menacing as the film progresses. The folksy songs offer lyrics that also superbly add to the story, and demand attentive viewing.
Rarely has there been such a stunning clash of cultures depicted on screen. It could not come together in a more terrifying finale either. Howie's fate and the joyful celebrations of the island members is one of the most shocking climaxes in cinema history, even today.
Extras
A fine selection, though owners of previous editions will already possess some of these.
-Burnt Offering: The Cult of the Wicker Man (48:19)
This is a 48 minute documentary presented by the incomparable Mark Kermode. This is a terrific feature, that goes into great detail about the production. There's a little historical context, and some terrific interviews with the principles. Of particular note are Britt Ekland's ramblings about her infamous nude scene, and the use of a body double, and the distilling as to why and how the film suffered so many distribution issues.
-Christopher Lee & Robin Hardy Interview (1979)
Thirty minute piece from Critic's Choice is a little drier than the more recent material. It is still engaging, if a really bizarre time capsule actually.
-Interview with Robin Hardy (16:18)
A new, and very informative interview with the director.
-Worshipping the Wicker Man (22:37)
This is more of a fan-orientated effort, as familiar faces such as James Watkins and Eli Roth talk about the effect the film had on them as viewers. There's some great insight here, particularly in regards to analyzing the pacing of the story, and the strong religious themes contained within. Some viewers may be especially surprised by Roth's astute observations.
-Music of the Wicker Man (15:22)
An interesting discussion about the music and songs with Gary Carpenter and further talking heads. A really nice inclusion given how vital the music is.
There's also a brief Restoration Comparison, and trailers, in addition to an audio commentary, and a "making of" said feature.
Overall
The picture quality of this Blu-ray is stunning. Interiors look staggering at times, particularly in the Green Man Inn, where the smoky, sinister atmosphere is very strongly conveyed.
The restored footage is hardly on par with the rest of the movie, though it's a flaw that is more than understandable. The first appearance of Lord Summerisle at night, as he brings a boy to Willow, looks particularly weak. The contrast is especially noticeable at the beginning as Howie makes his descent towards Summerisle. Sub-par footage suddenly gives way to gorgeous greens and yellows, as the HD master makes the most of the stunning scenary. These are minor quibbles however, and providing the viewer is aware of the inferiority of such material, it's a real treat to have these scenes restored to the cut.
The movie sounds fantastic too; making full use of the wonderful combination of narratively vital song and clear dialogue.
An excellent package, this comprehensive package should please all but the fussy of enthusiasts. Some fans still long for a complete version, that includes all footage from each version, running time, as well as every possible feature that has been previously released. For me, this Final Cut feels more informative and compellingly told, without becoming bloated or unnecessary, and the extras are more than enough.
A little warning for Steelbook collectors however. There is a slight grey cloud hanging over this StudioCanal release, in the form of confusion for fans over the content. Released as a 3 disc Blu-ray set, the full release contains all three cuts of the film- The Final Cut, The UK Theatrical Cut and The Director's Cut, in addition to the extras.
However, many fans were left salivating over the Zavvi exclusive Steelbook, which also promised all three cuts of the film. Studio Canal's original plan to utilise seamless branching across the disc to facilitate this, was scuppered, and the 3 disc set now includes the cuts spread across the set. This was not possible on the Steelbook, which includes only the Final Cut and extras, plus a DVD. Zavvi chose not to inform their customers that the release includes only Robin Hardy's new preferred cut. Ideally, the Steelbook would not have been dual format, instead including all of the editions on two discs. It's unfortunate, and renders the SB version somewhat redundant for ardent collectors who would like all versions in HD. It's disappointing, and extremely frustrating. One would hope Zavvi in particular, take notice and make good on their abominable customer service.
All of this aside however, this is fabulous release, complete with an excellent array of extras. The Wicker Man really does benefit from the various versions, each of which offer their own subtle differences. For me, the Theatrical Cut is the weakest, while The Final Cut is the best edition in which to experience Hardy's movie in all its folksy, sinister glory. It's difficult to imagine this seminal piece of distinctly British horror, being afforded a better package.