The Sweeney - The Complete First Series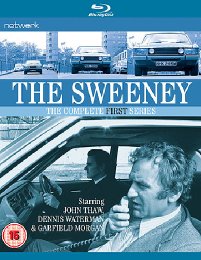 Certificate: 15
Running Time: 650 mins approx
Retail Price: £27.00
Release Date: 10/09/2012
Content Type: TV Series
Synopsis:
Rough, tough and politically incorrect in the way that only the best '70s drama series can be, The Sweeney is one of the major television successes of the last fifty years. Featuring John Thaw as the irascible Detective Inspector Regan and Dennis Waterman as his loyal 'oppo', Detective Sergeant Carter, this benchmark television series is now available on Blu-ray in a stunning level of quality not previously seen. The Sweeney has never looked this good.
Special Features:
FEATURES ON THIS NEW EDITION:
• Brand new High Definition transfers and restorations from the original negatives.
• Brand-new, exclusive booklet written by archive television historian Andrew Pixley, fully detailing the history and production of both Regan and this first series.
• Reconstructed titles created from the original stills (Disc One).
• Dolby 5.1 along with original as-broadcast mono and music-only tracks.
• Interview with creator Ian Kennedy-Martin (Disc One).
• Commentaries with Dennis Waterman, Garfi eld Morgan, producer Ted Childs, writers Trevor Preston and Troy Kennedy-Martin, directors Tom Clegg and David Wickes, assistant director Bill Westley and editor Chris Burt.
• Episode introductions by guest stars Warren Mitchell, Wanda Ventham, Prunella Gee, John Forgeham, Billy Murray, Tony Selby and Dudley Sutton.

Related Websites:
http://www.networkdvd.net/product_info.php?cPath=101&products_id=1611

Video Tracks:
1.33:1 / Colour

Audio Tracks:
5.1 / Mono / English

Directed By:
Tom Clegg (14 episodes, 1975-1978)
Douglas Camfield (6 episodes, 1975-1978)
David Wickes (6 episodes, 1975-1978)
Terry Green (5 episodes, 1975-1978)
Mike Vardy (4 episodes, 1975-1978)
William Brayne (4 episodes, 1975-1976)
Ted Childs (2 episodes, 1975)
Jim Goddard (2 episodes, 1975)
Viktors Ritelis (2 episodes, 1975)

Written By:
Ian Kennedy Martin (20 episodes, 1975)
Trevor Preston (11 episodes, 1975-1978)
Roger Marshall (8 episodes, 1975-1978)
Ranald Graham (6 episodes, 1975-1978)
Troy Kennedy-Martin (6 episodes, 1975-1978)

Starring:
Dennis Waterman
John Thaw
Warren Mitchell
Wanda Ventham
Prunella Gee
John Forgeham
Billy Murray
Tony Selby
Dudley Sutton

Casting By:
Lesley De Pettit (24 episodes, 1975)

Soundtrack By:
Harry South

Music From:
Harry South

Director of Photography:
Dusty Miller (24 episodes, 1975-1978)
Norman G. Langley (22 episodes, 1975-1978)

Editor:
John S. Smith (26 episodes, 1975-1978)
Chris Burt (17 episodes, 1975-1976)
Ian Toynton (9 episodes, 1975-1978)

Producer:
Ted Childs .... producer (53 episodes, 1975-1978)
Mary Morgan .... associate producer (53 episodes, 1975-1978)
Lloyd Shirley .... executive producer (53 episodes, 1975-1978)
George Taylor .... executive producer (53 episodes, 1975-1978)

Distributor:
Network DVD