Review for Bleach The Movie 2: The Diamond Dust Rebellion
Introduction
Don't throw away that DVD!
Just thought I'd get that warning out of the way first. As while the advent of the Bleach movies on Blu-ray is a cause for celebration for UK fans, especially as the first two movies are yet to be released on that format anywhere else in the English speaking world, there are one or two reasons why you might want to hold onto the Manga Entertainment DVD release of the second film, Diamond Dust Rebellion. On the bright side, we've finally caught up to the Arrancar arc in the series releases, so some of those references in the movie that flew past my head the first time around will now make sense. Anyway, since it is the same movie as before, the text in italics is taken from my previous review.
You'd think that a teenager's life would be complicated enough if he could speak to ghosts. But that was only the beginning for Ichigo Kurosaki. When he literally bumped into a Shinigami named Rukia Kuchiki, he was introduced to a whole new world. The Shinigami's mission is to guide forlorn spirits known as Wholes to the Soul Society, and protect them and the living from Hollows, perverted spirits that have become monsters that prey on other souls, living or dead. They are not supposed to let the living know about this supernatural world, but not only did Ichigo see Rukia, circumstances forced her to give him her powers, and train him to be a Shinigami.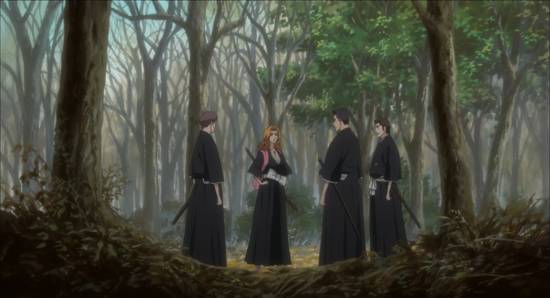 In the Soul Society, the Ouin, the Royal Seal is being escorted as it traditionally changes location. In charge of its protection is Squad 10 of the Shinigami, led by Captain Toshiro Hitsugaya. It's pretty much a routine mission, a formality, except that this time the caravan is attacked. Fire and lightning lay waste to the procession, while a masked swordsman goes after the Ouin. It's up to Hitsugaya to stop him, but he's shocked into inaction when he realises that impossible though it is, he knows the thief, and even more impossibly, the thief wields the same Zanpakuto sword as his own. Hitsugaya ditches his responsibilities to chase after him into the world of the Living, leaving the caravan devastated, and his Lieutenant Matsumoto holding the pieces. Soon reports are coming in of crimes being committed by Hitsugaya, and he turns against the Shinigami sent after him to bring him back. As a result, Squad 10 is suspended, and the order is issued to execute Hitsugaya on sight. Ichigo and his friends still believe in Hitsugaya's innocence, and are determined to prove it. But by doing so, they will uncover one of the Soul Society's darkest secrets, one that could tear the Soul Society apart
.
Picture
The first movie has its issues on DVD and Blu-ray. The original DVD was a rough looking standards conversion, while the Blu-ray has turned out to be a 50Hz interlaced transfer. None of these problems apply to Bleach The Movie 2: Diamond Dust Rebellion. Its DVD was a smooth and sharp film to PAL conversion, while this Blu-ray with its 1080p 1.85:1 widescreen transfer, displayed at the correct 24 frames per second is the least that any feature film deserves.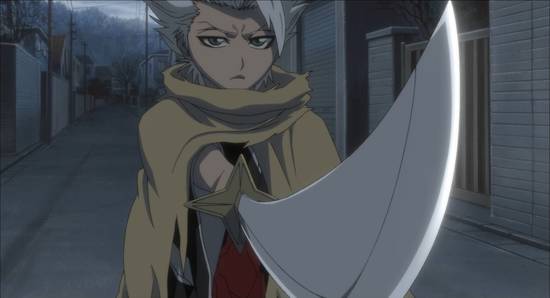 The image is clear and sharp throughout, the detail levels come across without issue on the Blu-ray's higher resolution, and the animation is smooth and engaging. I have to say though that this second Bleach film for the most part lacked the fine detail that warrants a higher definition transfer. It holds to its television roots in terms of the broadness of its character designs and simple world designs. Only in a few scenes would you see intricate detail that would warrant a higher definition presentation. The same is true for the colour palette, which given the film's winter setting, doesn't challenge the greater fidelity offered by Blu-ray. That said, watching the action sequences without aliasing or compression artefacts is definitely a plus. I was disappointed however at the prevalence of digital banding across colour spaces. It's far more than I'm used to seeing in animation on Blu-ray.
Sound
I've discovered a new audio format. Bleach the Movie 2 gets DTS-HD MA 5.1 Surround audio in French, Japanese, and German. Its Italian and English audio tracks are DTS-HD HI RES 5.1 Surround. HI RES, I have since learned is a lossy audio format with better quality than DTS or DTS-ES, and has a constant bitrate of 2Mb per second. You get translated subtitles and signs only tracks for French, German, Italian, and English, as well as translated subtitles for Polish and Dutch. I opted for the Japanese track as always, and was very happy with the surround experience, offering more clarity and vibrancy than the admittedly impressive surround tracks on the DVD. The subtitles were clear, timed accurately and free of error.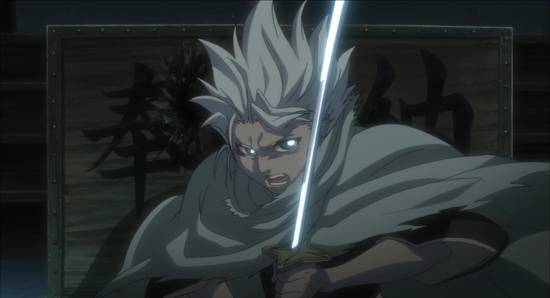 Extras
Here is where you may consider holding onto that DVD.
The first thing is that I had a player incompatibility problem with Diamond Dust Rebellion. While the film played just fine, if I stopped the disc and then pressed play again, unlike the usual Kaze disc which just boots up from the beginning again, this disc locked up my player with a blank screen, making me wait 3 minutes while it figured out how to eject the disc and go into standby so that I could start again from scratch. If you too have a Panasonic SA BT230 player and happen to press stop during playback, just eject the disc straight away.
The second thing is that this is a pan-European Kaze disc, with menus for English, French, German, Italian, Dutch and Polish fans. If you are English, Polish, Dutch or Italian, then you get nothing but the movie. Also we get the usual Kaze user-unfriendliness that locks away subtitle and audio options. No subs for HOH English dub fans.
The French menu autoplays with trailers for KZTV and on the disc you'll find HD trailers for King of Thorn, Tiger and Bunny, and a Fist of the North Star movie. You'll also find 37 minutes of featurettes, along with a trailer for the first movie, all subtitled in French.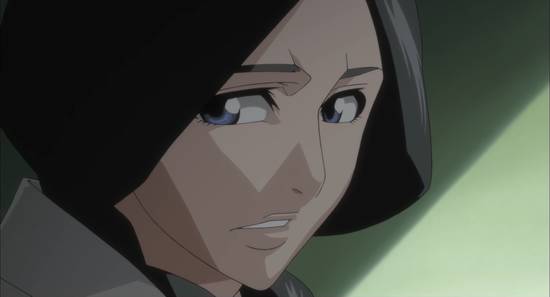 The German menu has the 37 minutes of featurettes subtitled in German and trailers for Summer Wars, Professor Layton, and Detective Conan.
The thing is that on that Manga Entertainment DVD from a few years ago, you'll find those very same featurettes subtitled in English, as well as a production art gallery and 5 minutes of promos to this film which aren't on the Blu-ray. So it's best if you find yourself a two-disc case and make yourself a Blu-ray DVD combo.
Conclusion
If you're going to remake a movie, don't remake Sylvester Stallone's Judge Dredd. As the plot of Diamond Dust Rebellion unfolded, my jaw dropped at the audacity of remaking one of the major comic book travesties of the last ten years or so. But, to the credit of Bleach's creators, they did do their best in distilling something watchable from that turgid mess. The Diamond Dust Rebellion is infinitely better than Judge Dredd. It's still not as good as Memories of Nobody though. Thankfully though, and unlike their Naruto counterparts, the creators of the second Bleach film actually look to give us something that is different from the series, and different from the movie that preceded it. If you haven't seen Judge Dredd, then Diamond Dust Rebellion is downright original.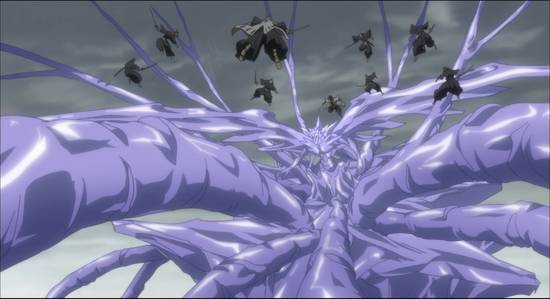 It's a character based story first and foremost, and unlike some TV to film anime adaptations, it isn't a film that tries to cram everyone in with teeny tiny cameos. If you come to this film expecting lots of Ichigo and Rukia, and plenty of Orihime and Chad, then you may be disappointed. The majority of the film takes place in the Soul Society, and it's really an opportunity to tell the story of a character that doesn't often take centre stage. Toshiro Hitsugaya is one of the Soul Society Shinigami captains, and not a major protagonist in the series. Conversely, it does mean that the creators can build a feature length story around him, and develop his character without significantly impinging on the series. Hitsugaya goes on quite the emotional rollercoaster when a piece of the past that he considered dead and buried comes back to haunt him.

It turns out that he has something in common with Ichigo. After the death of his mother, Ichigo turned inward and decided that he had to deal with his feelings himself, and instead wound up bottling up that grief and rage. Following his traumatic past when he first became a Soul Reaper, Hitsugaya has done the same; only he hasn't had a family to help him past that. The guilt, rage and grief that he has kept bottled has had no outlet up to now, until the advent of the masked thief who carries the same sword as him. Hitsugaya recognises the thief, and believes that this is a situation that only he can resolve. He winds up becoming an outcast and an exile from the Soul Society as he pursues his obsession. Those who know him best are certain of his innocence, while when Ichigo encounters him in the real world, he recognises the look of despair and desperation in his eyes, and realises what he is going through.

The Diamond Dust Rebellion is quite a deliberate, melancholy film for the first two-thirds, focussing more on character than visual pyrotechnics. There's not a lot of humour to it, but as the story unfolds, it becomes quite an engaging watch. The wintertime setting certainly helps in the feel of the film, and its somewhat darker, reflective outlook, focussing more on the characters begins to mark it as something outside the usual shonen movie adaptations, much like the first Bleach film did. Unfortunately, the final act undoes all that by introducing the whopping great monster foe, threatening the existence of the Soul Society, requiring the entire army of Soul Reapers to have at it with their swords-a-swinging and their Bankai-a-blinging.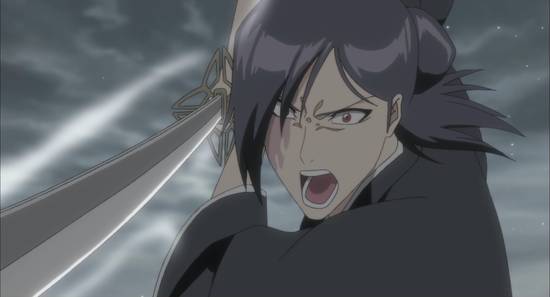 The Diamond Dust Rebellion promised to be something special, but in the end delivers something quite average. On top of that, it's a remake of Judge Dredd. You'd probably expect me to slate it at this point, but on the whole it was quite an enjoyable film, well worth an investment of ninety minutes. And when all is said and done, filler it may be, but it is neat, undiluted Bleach, much better than the tedium that is the series.
The presentation of the second Bleach film on this disc isn't without its flaws, but gives enough of a boost to the quality compared to the DVD to make it worth the HD appellation. An annoying glitch on most likely just one model of Blu-ray player isn't really worth grousing about, but the segregation of extra features to other territories, extras which are available on the DVD is worth a complaint. But, given now that we are smack in the middle of the Arrancar arc, I am once again reminded just how much better Bleach is in small, concentrated doses. Next up, the newest Bleach film to come to the UK, and I'll have to actually form a new opinion!