Review for Take Shelter
Take Shelter
Dir: Jeff Nichols(2011)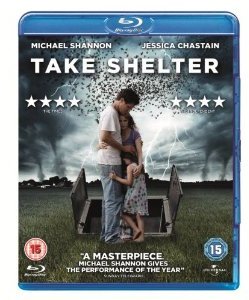 Every so often, a thriller comes along that genuinely surprises, startles, and leaves a lasting impression. And no, not a thriller like Fatal Attraction (1987), which indulged in the trendy excess of its time through it's underwear catalogue sheen, or Hannibal (2001), Ridley Scott's most needlessly vulgar film, a crude celebration of serial killer vogue. I'm talking instead about a thriller that harks back to the fundamentals of superb storytelling, believable acting, and a gripping hook. In this case, Take Shelter provided enough of all of those things to become the toast of the 2011 festival scene, and earn the unabashed plaudits of publications such as Little White Lies and Time Out. The essential reason for this adulation and success, was simply that Jeff Nichols has created something unique, a movie with the grapefruits to allow the story to speak for itself without fireworks, noises or gimmicks.
Set in small-town Americana, Take Shelter tells the relatively simple tale of Curtis LaForche (Michael Shannon), a blue-collar labourer, who appears to have something of a happy home life. He has a beautiful wife (Jessica Chastain), and a young daughter, Hannah (Tova Stewart). Life is far from perfect though .Despite being a very stable unit, Hannah is deaf and requires specialist health care, which ensures Jessica spends time at the market trying to make extra money from hand-made items.
Against this backdrop, Curtis begins to experience the terrifying sensation that an apocalyptic storm is on the way to Ohio. This manifests in the shape of dreams, during which the incidents that take place appear to affect his everyday life. Bitten by his dog in one such vignette, Curtis experiences the pain in said limb back in the waking world for a full day. More importantly though, Curtis cannot sake this overwhelming feeling that the storm is coming, and sets about building an improved storm shelter in his back garden. Complicating the matters, we learn that Curtis' mom was admitted to hospital at the same age he is currently, with paranoid schizophrenia. Beside himself that he may lose everything to the disease, he begins to visit a councillor, as the dreams become increasingly violent, and isolate him from his family and friends. Is it telling the truth? Is there really an impending colossus of a rainstorm, or has he simply found himself in the grip of mental illness?
It sounds fairly basic: psychological issues versus impending disaster. Who can trust the crazy man? The film simmers to essentially one question… is he losing his mind? But where the simplicity could have easily been overwrought, and proven to have been Take Shelter's downfall, instead it's what keeps the plot buoyant throughout. His predicament is dealt with in a measured, understated, but never less than absolutely gripping manner. In a way, the film recalls the excellent The Machinist (2004), starting Christian Bale. Both films are about men who become, ostensibly loners due to situations in which they find themselves. Certainly paranoid, potentially Schizophrenic, and without a doubt, detached and forced into a state of self-preservation.
Where Take Shelter differs though, is with the sense of optimism that it conveys throughout. Curtis has a strong family unit backing him, and the support shown by his wife, while under fire at times, holds strongly enough to keep him together. It would certainly spoil the film to divulge more, but the drama that is unleashed in the closing act is a testament to the stage set beforehand.
Enhancing the entire project, the performances by Shannon and Chastain are magnificent. They're far removed from a typical Hollywood leading couple, but they have a genuine chemistry, and look extremely comfortable with one another. Shannon particularly looks dominant and yet vulnerable in a role is of a trademark underdog. With a family history of schizophrenia and the accusing stares of disbelieving neighbours, he has the odds stacked against him. The audience wants to believe him and root for him, but his vision is so implausible, it is impossible to not lapse into simply pitying him at times.
If there's one possible criticism, it's potentially that Curtis resists, in typical cinematic fashion, from divulging his problems to his loving, affectionate wife for so long. It's an unrealistic staple of cinema, and often, one that is as illogical as it is blatant. However in this scenario, they manage to reign in this aspect of the drama before it threatens to become irritating. The worn cliché of a having an instant abandonment at the hands of a disbelieving loved one, is not an issue here, and the mental illness and desire to provide for one's family certainly smoothes over any possible
It must be said, the Blu-Ray package on offer here, is a little disappointing. Extras consist only of deleted scenes, and a "making of" featurette. The deleted scenes are rather intriguing though, and are clearly cut from the film due to time and pacing constraints, rather than due to not working, or being of an inferior standard. Meanwhile, at ten minutes, the "making of" may be incredibly short, but it is genuinely fascinating stuff. In fact, it's the sort of insight that really enhances a picture, and helps appreciate the various nuances that little bit more. It is just a shame that there is so little of this material. It would be unjust to suggest that this is a perfect release, on either format. The lack of extras attest to this limitation. However, it would be equally unfair to allow this to take away from what a magnificent film this is. On Blu-ray, it also looks and sounds stunning, boasting a booming audio that genuinely unnerves during the dream sequences.
Take Shelter is a thriller for those with patience and an attention span. For anyone prepared to devote more than five minutes to a story, and stick with it, it is an extremely rewarding experience. Both heartbreaking and uplifting, Nichols has crafted a quietly affecting portrayal of a man in turmoil. More than that however, he has exhibited the fortitude to produce one of the most intelligent thrillers of recent times.