Silent Running (Masters of Cinema)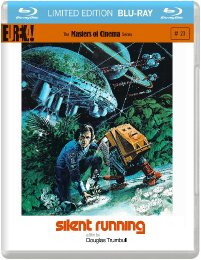 Amazing companions on an incredible adventure... that journeys beyond imagination!
Certificate: U
Running Time: 90 mins
Retail Price: £19.99
Release Date: 2011
Content Type: Movie
Synopsis:
Three years after helping to achieve some of the most amazing imagery in cinema history with 2001: A Space Odyssey, special effects maestro Douglas Trumbull made an auspicious directorial debut at age 29 with the environmentally themed science fiction classic Silent Running.

In the distant future, plant life on our planet is extinct. Remaining specimens are cultivated in vast greenhouse-like domes orbiting in space. Bruce Dern (Marnie, Coming Home, The 'burbs, Monster) stars as Freeman Lowell, dedicated botanist aboard the 'Valley Forge', awaiting the call to refoliate Earth despite the scorn of his crewmates. When an order comes to instead destroy the domes and return home, Lowell takes matters into his own hands, beginning a long and lonely voyage into the unknown.

With its remarkable special effects (especially the robot drones Huey, Dewey, and Louie); glorious score (including songs performed by Joan Baez); memorable sound effects (created by Joseph Byrd from the cult band The United States of America); a screenplay co-written by Michael Cimino (The Deer Hunter) and Steven Bochco (Hill Street Blues), and an impassioned central performance from Dern, Silent Running remains a uniquely contemplative and haunting adventure that continues to make hippies of young children, even today.
Special Features:
Full-length commentary by director Trumbull and actor Bruce Dern
Isolated music and effects track
The Making of Silent Running
Two video pieces with Douglas Trumbull
A Conversation with Bruce Dern
Original theatrical trailer
A lavish 48-page full-colour booklet featuring rare photographs and artwork from Trumbull s personal collection, and recollections of the film's cinematographer, special designs coordinator, and composer.

Video Tracks:
1080p widescreen 1.85:1

Audio Tracks:
DTS-HD MA 2.0 mono English

Subtitle Tracks:
English

Directed By:
Douglas Trumbull

Written By:
Deric Washburn
Michael Cimino
Steven Bochco

Starring:
Bruce Dern
Cliff Potts
Ron Rifkin
Jesse Vint

Music From:
Peter Schickele

Director of Photography:
Charles F. Wheeler

Editor:
Aaron Stell

Producer:
Michael Gruskoff
Douglas Trumbull

Distributor:
Eureka Entertainment