Five Minarets in New York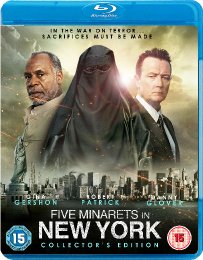 In the war on terror... Sacrifices must be made
Certificate: 15
Running Time: 102 mins
Retail Price: £24.99
Release Date: 2011
Content Type: Movie
Synopsis:
Istanbul, Turkey: Two of Turkey s top Secret Police Officers undertake covert anti-terror operations to uncover the true identity of a dangerous Islamic leader known only as Dajjal . Through violent raids and brutal interrogations they uncover his real name.

New York: Led by Agent Becker (Robert Patrick Terminator 2; Judgement Day) the FBI arrest a prominent Muslim scholar and family man Hadji Gumush in connection with an international arrest warrant issued by Interpol. Have the FBI found Dajjal?

The Turkish secret police officers are swiftly dispatched to New York to assist in the extradition, but the handover is far from simple. With the support of his wife (Gina Gershon Face/Off) and close friend Marcus (Danny Glover Lethal Weapon) Hadji manages to elude the authorities and go into hiding. But one of the officers did not travel all that way to just let him disappear quietly into the night; a lifetime of vengeance is about to be unleashed. In this nail biting action-thriller hunter and prey realise they have more in common than they first thought, setting them on a violent course that will force them to face the heart of their faith.
Special Features:
Trailer
Production Gallery

Video Tracks:
2.35:1 widescreen

Audio Tracks:
DTS-HD MA 5.1 English and Turkish
Dolby Digital 2.0 Stereo English and Turkish

Subtitle Tracks:
English (for Turkish dialogue only)

Directed By:
Mahsun Kirmizigül

Written By:
Mahsun Kirmizigül

Starring:
Mahsun Kirmizigül
Haluk Bilginer
Danny Glover
Gina Gershon
Robert Patrick
Mustafa Sandal

Casting By:
Kerry Barden
Paul Schnee

Music From:
Mahsun Kirmizigül
Tevfik Akbasli
Yildiray Gürgen

Director of Photography:
James Gucciardo

Editor:
Mustafa Presheva

Costume Designer:
Michael Bevins
Funda Buyuktunalioglu

Production Designer:
John El Manahi
Veli Kahraman

Producer:
Murat Tokat

Distributor:
Showbox Home Entertainment