The World at War: Ultimate Restored Edition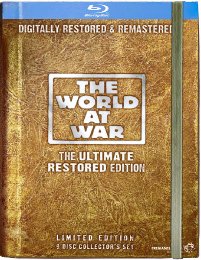 Certificate: Exempt
Running Time: 1430
Retail Price: £99.99
Release Date: 30/08/2010
Content Type: TV Series
Synopsis:
Originally broadcast in 1973 and narrated by Sir Laurence Olivier, 'The World at War' was produced by Thames Television over a 4 year period.

The 26-part documentary series interviewed major members of the Allied and Axis campaigns, civilian eyewitnesses, enlisted men, officers and politicians and made use of the rare colour film footage to investigate the events surrounding World War II to create what is widely agreed to be the definitive history of World War II.

The production costs were, at the time, record-breaking in the UK.
Special Features:
Brand new to this Blu-Ray boxset for the first time ever:

•Hard of hearing subtitles
•New widescreen presentation
•5.1 HD Master Audio
•Limited edition packaging
Over 10 hours of special features includes:

•Brand new - Restoring the World at War - narrated by Sir Jeremy Isaacs, this feature explores every element of the restoration process
•11 features including the making of the original series
•Photo galleries
•Biographies
•Speeches and songs
•Newsreels and maps

Related Websites:
http://www.theworldatwar.com/

Video Tracks:
1080p Widescreen 1.78:1

Audio Tracks:
DTS-HD Master Audio 5.1 English
LPCM 2.0 English

Subtitle Tracks:
English HoH

Directed By:
Hugh Raggett
John Pett
David Elstein
Ted Childs
Michael Darlow
Martin Smith

Written By:
Peter Batty
Neal Ascherson
Laurence Thompson
Charles Bloomberg
Jerome Kuehl
David Wheeler
John Williams

Starring:
Laurence Olivier

Soundtrack By:
Carl Davis

Editor:
Jeff Harvey
Peter Lee-Thompson
David Taylor
Beryl Wilkins

Producer:
Peter Batty
David Elstein
John Pett
Ted Childs
Michael Darlow
Martin Smith
Phillip Whitehead

Distributor:
Fremantle Home Entertainment