The Gold Rush
For my money, Charlie Chaplin is one of the greatest filmmakers who ever lived. He wrote, directed and played the lead in just about every feature film he made and is quite rightly regarded as a cinematic genius and, along with Harold Lloyd and Buster Keaton, one of the greatest comics of the silent era. Among his many great films was The Gold Rush, a film that many will be familiar with even if they haven't seen it as the scenes with Chaplin eating his shoe, twirling the lace on his fork like spaghetti, Big Jim hallucinating through hunger and picturing the Little Tramp as a chicken or Chaplin taking two forks, putting each one in a bread bun and 'dancing' them have entered popular culture, even being referenced on The Simpsons and Tom and Jerry.

Set in the winter of 1898, The Gold Rush follows 'The Lone Prospector', played by Chaplin as The Little Tramp, who, along with hundreds of other men, journeys to Alaska in search of gold. Seemingly clueless about where to dig and what to do -- he is even followed by a bear on his way -- as our Lone Prospector hooks up with a fellow traveller, Big Jim, and try and stave off the ravages of hunger whilst trapped in a hut which is barricaded by the elements.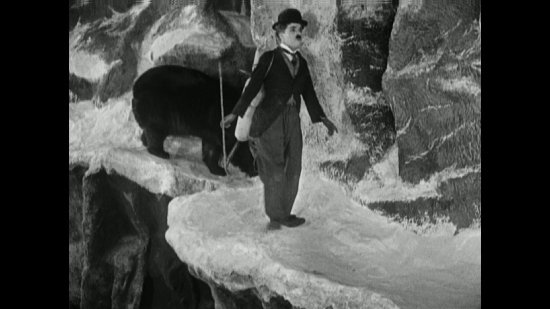 Also around on the snowy wilderness is Black Larsen, a fugitive from the law wanted for murder who will let nothing stand in his way of fortune and a passage to freedom. Predictably enough, the three end up trapped together in the isolated hut but neither the Lone Prospector or Big Jim know who their companion really is.
With Chaplin films you generally get a love interest, someone unobtainable for the Little Tramp and, in this case, there is a wealthy socialite called Georgia who hangs around in the town with just about every man wanting to dance with her. Of course, when the Lone Prospector arrives back from his trip to the frozen wastes, he is instantly smitten and, when Georgia rebuffs one of her suitors by picking the Little Tramp as a dancing partner, he thinks that his feelings are reciprocated.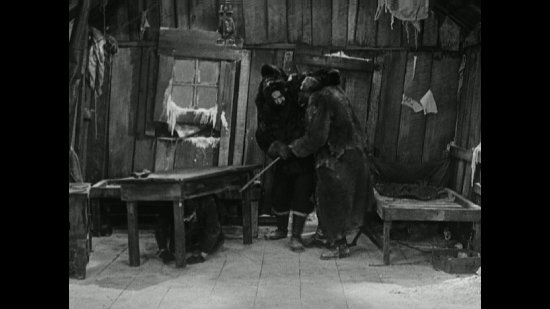 Although
City Lights
is my favourite Chaplin movie and one of the ten greatest films ever made, I think most of his output is extraordinary in its writing, direction and pathos. It's all very well doing slapstick comedy but it doesn't work unless you feel something for the main character and with the Little Tramp as the ultimate underdog, you are desperately to succeed against all the odds. There are many brilliant scenes in
The Gold Rush
, three of which have been parodied/referenced in various films and television shows but the one that stands out for me is when Big Jim and Black Larsen are fighting over the shotgun and, try as he might, at the Lone Prospector always ends up with the gun pointing at him, no matter where he goes in the cabin. It is a perfect example of choreography, spatial awareness and comedic timing that would make it perfect teaching material for a film studies class.
The film was originally released in 1925 as a silent picture with intertitles but, in 1942, Chaplin re-edited the film, providing a narration so, although it is still a silent movie with the actors not speaking, it does have a narration rather than intertitles.
This may not be the greatest of Chaplin's films but it is still an extremely enjoyable watch with many scenes that are laugh out loud funny -- 85 years since it was made. The fact that the film is able to stand the test of time and make people laugh and feel for Chaplin's character so long after the film was released as a testament to the quality of Chaplin's writing, direction and acting. It's no wonder that Chaplin repeatedly said that this was the film for which he would most like to be remembered.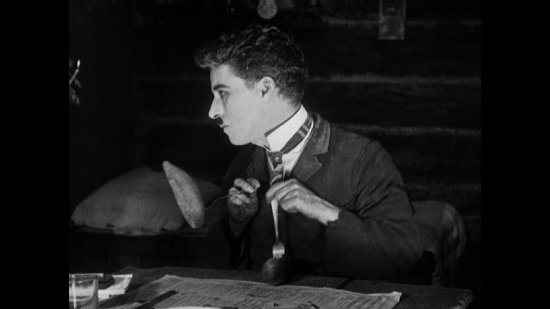 THE DISC
Extra Features
According to the press release, this will be a two disc set with the Blu-ray Disc and a DVD which will include the special features as the BD only comes with chapter selection. Along with the fascinating Chaplin Today: The Gold Rush documentary that was previously released on the Warner Home Video DVD and is often shown on Sky Movies, the set also includes an introduction by David Robinson, a Chaplin trailer reel and a photo gallery. Perhaps the finest addition to the set is the inclusion of the original 1925 silent film without Chaplin's narration.
The Picture
As Eureka proved with their stellar release of F.W. Murnau's
Sunrise
, old black-and-white films can look extraordinarily good when remastered and released in high definition on Blu-ray Disc and this release of
The Gold Rush
is astonishing. Considering it was made in 1925, the edges are sharp, contrast levels are deep and detail is extremely high. Even when compared to an upscaled recently released DVD, this looks absolutely stunning in its clarity, contrast levels and definition.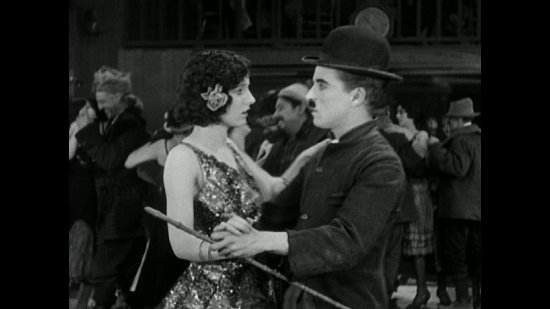 The Sound
You have the choice of LPCM 2.0 stereo or DTS-HD Master Audio 5.1 and, try as I might, I really couldn't detect a difference between the two as they both stick rigidly to the centre speaker with occasional use of the front surrounds and are both as clear as you could possibly wish for.
The score, composed by Chaplin, is a wonderful piece of music that even incorporates Strauss' The Blue Danube and perfectly evokes the tone and feel of the piece, underscoring emotion and dramatic scenes extremely well.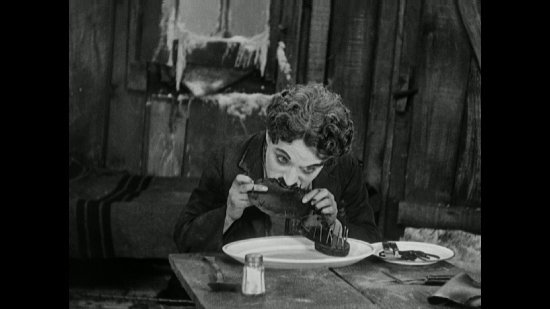 Final Thoughts
Even if you already own
The Gold Rush
on DVD, this is well worth considering as an upgrade because the AV package is so much better than on the 2003 Warner Home Video DVD release that fans of Chaplin's work would be foolish not to pick this up. If you don't have it on DVD and consider yourself a film fan then this is a 'must buy' set.