In the Electric Mist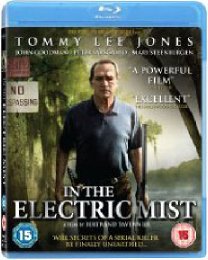 Will secrets of a serial killer be finally unearthed...
Certificate: 15
Running Time: 98 mins
Retail Price: £19.99
Release Date: 22/02/2010
Content Type: Movie
Synopsis:
New Iberia, Louisiana. Detective Dave Robicheaux (Tommy Lee Jones) is on the hunt for a serial killer who preys on young women. Driving home from another gruesome crime scene, Dave meets glamorous Hollywood star Elrod Sykes (Peter Sarsgaard).

Sykes is in town shooting his new movie, with backing from local crime kingpin Baby Feet Balboni (John Goodman). He tells Dave he saw a body lying in a swamp - the decomposed corpse of a black man in chains. The discovery brings memories hurtling out of Dave's past.

He senses the two cases are linked. But as Dave gets closer to the murderer, the murderer gets closer to Dave and his family...
Special Features:
None.

Video Tracks:
16:9 2.35:1

Audio Tracks:
5.1 Surround
2.0 Stereo

Subtitle Tracks:
N/A

Directed By:
Bertrand Tavernier

Written By:
Jerzy Kromolowski
Mary Olson-Kromolowski
James Lee Burke

Starring:
Tommy Lee Jones
John Goodman
Peter Sarsgaard
Kelly Macdonald
Mary Steenburgen
Justina Machado
Ned Beatty
James Gammon

Casting By:
Lisa Mae Fincannon
Jeanne McCarthy

Soundtrack By:
Marco Beltrami

Director of Photography:
Bruno de Keyzer

Editor:
Larry Madaras
Roberto Silvi

Costume Designer:
Kathy Kiatta

Production Designer:
Merideth Boswell

Producer:
Frédéric Bourboulon
Michael Fitzgerald

Executive Producer:
Penelope Glass
Gulnara Sarsenova

Distributor:
High Fliers