Rolling Stones: The Biggest Bang

It is quite amazing to think how long the Rolling Stones have been going - it was put into perspective quite brilliantly on the tour documentary which pointed out that, at the weekend Super Bowl I took place they appeared on the Ed Sullivan show.  Forty years on, at Super Bowl XL, they played the half time show!
 
You can debate for ages as to when the Stones were in their musical prime, which was their best line-up and which album is the finest and probably have a similar conversation about when they were best live.  I would contend that as a live act they are in their pomp now with a back catalogue of over 400 songs and a settled group of backing singers, jazz musicians and a keyboardist to go with the four principal musicians, all of whom are in their sixties.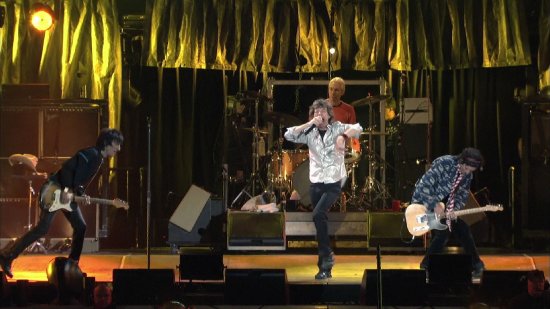 Rolling Stones: The Biggest Bang was previously released on DVD with three discs of three of their shows from the Bigger Bang tour in 2006.  This saw them go all over the world, from North America to China, Europe and South America where they played a free gig on Rio de Janeiro's beach in front of well over a million people.  This disc just includes the Texas gig where they played at Zilker Park in Austin.
 
This disc arrived with good timing as I had only recently watched Martin Scorsese's concert/documentary film Shine a Light so it was interesting to compare the Stones playing an intimate arena to a huge park with what looked like about 100,000 people in attendance.  Mick Jagger is one of the great showmen whose body belies his age (his face is a different matter) with incredible snake hips and agility and stamina that would put many of today's younger performers to shame.  Over the decades he has been perfecting his stage presence, but so have Keith Richards and Ron Wood, especially the former who is probably better known to younger viewers as being the guy who appeared in the last Pirates of the Caribbean movie as Johnny Depp's dad!
 
One of the first things you notice is the sheer scale of the stage and backdrop - it isn't so much a stage as a building with bridges and balconies plus a screen that would rival anything that U2 have played in front of in the past.  When they come out and the music starts you realise what a well-oiled machine it is and each member is both an individual with their own act but also part of the Rolling Stones and part of the biggest rock band on the planet.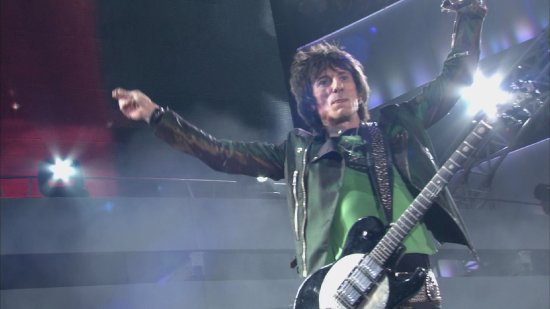 This is a quite phenomenal gig with an excellent set list, though everyone will have their own dream Rolling Stones set list and there are bound to be songs that you wish they'd played, but it's a great mix of the classics, the lesser known songs and a few cover versions thrown in.  Of course this is all about the music and the spectacle and this is the reason why it's been released on Blu-ray with a high definition picture and a choice of lossless DTS-HD Master Audio or uncompressed PCM Stereo as the audio options.

The set list for the concert is:




Opening


You Got Me Rocking


Let's Spend the Night Together


She's So Cold


Oh No. Not You Again


Sway


Bob Wills Is Still The King


Streets of Love


Ain't Too Proud To Beg


Tumbling Dice


Learning The Game


Little T & A


Under My Thumb


Get Off My Cloud


Honky Tonk Women


Sympathy For The Devil


Jumpin' Jack Flash


(I Can't Get No) Satisfaction


Brown Sugar
The band clearly love what they're doing and relish the challenge of keeping themselves interested by rotating the songs they play each night and eliciting a bigger response from the crowd than the night before.  I'm nowhere near the world's biggest Rolling Stones fan and I'm quite happy with the Forty Licks best of CDs but, when you see a band that are in their element on stage with a massive audience and an enormous stage, you get taken in and I loved every minute of it. 
The Disc
Extra Features
Whether this is classed as an extra or part of the main feature, I'm not sure, but the disc has a 70 minute documentary called
Salt of the Earth
.  This follows them round the world on their tour and shows the logistics that went into the gig in Rio, including laying over a mile and a half of relay towers so that people could hear them from miles away from the stage.  This is a fascinating look at what goes into making a Rolling Stones gig a reality and the piece on their performance at Super Bowl XL was intriguing, looking at the meticulous rehearsals that were needed so that on the night a stage could be assembled in 5 ½ minutes and even a quick chat with the guy who has his fingers on the buttons should Mick Jagger have said anything that would've incurred a fine from the FCC. 
There's also a brief six-minute min documentary from Austin, three songs from Saitama, Japan and the original DVD credits.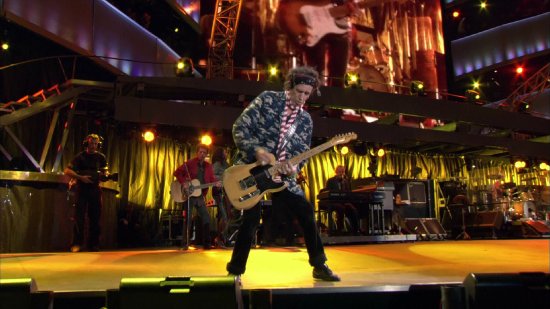 The Picture
Absolutely stunning.  There isn't a pixel out of place in this tremendously directed and edited concert with an amazing screen, pyrotechnics and superb light show.  If you want to know how to put on a concert that will be visually amazing, just watch this.  The high definition picture, though not Full HD at 1080i, is flawless with excellent black levels and colours. 
The Sound
As I said, you get the choice of lossless DTS-HD Master Audio or uncompressed PCM Stereo and there is very little to choose between them.  The DTS track used the rears for crowd noise but I actually preferred the PCM which, though it didn't separate the sound between the centre speaker and front surrounds, blended them beautifully into a crisp and clear soundtrack.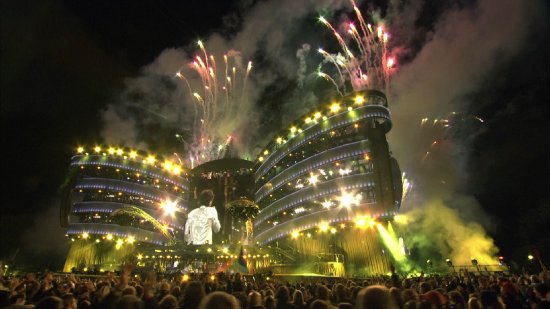 Final Thoughts
Rolling Stones: The Biggest Bang
is a superbly presented concert that, itself, is excellent.  If there is only one gripe it's that the other gigs that are included on the DVD set are absent from this and it's a mystery why they didn't include them on a second disc (even as a DVD) and bumped up the RRP by a fiver.  I suppose it means that if you want to see and hear the Stones in hi-def then you'll have to buy this in addition to the DVD set for the other concerts.