Persepolis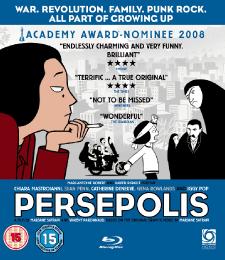 Certificate: 15
Running Time: 92
Retail Price: £24.99
Release Date: 18/08/2008
Content Type: Movie
Synopsis:
Persepolis is the autobiographical tale of Marjane Satrapi, sharing her experiences as a young girl coming-of-age in Iran during the Islamic Revolution.

It is through the eyes of this precocious and outspoken nine year old that we see a peoples' hopes dashed as fundamentalists take power - forcing the veil on women and imprisoning thousands. Though she outsmarts the "social guardians" and discovers punk, ABBA and Iron Maiden, the daily fear that permeates life in Iran is palpable, as bombs fall on Tehran during the Iran/Iraq war and those close to her fall foul of the regime...

Based on Marjane's four graphic novels, this striking animation covers her childhood in Iran, her escape to an education in Vienna and then a bittersweet return to her native country.

First time director Marjane Satrapi has brought her acclaimed novels to life with co-director Vincent Paronnaud and won a host of international awards in the process, including the Grand Jury Prize at Cannes and the Sutherland Trophy at the London Film Festival. Persepolis was named as France's official entry for Best Foreign Film at the Oscars and was nominated for Best Animated Feature.
Special Features:
Raging Blues Short Film
Interviews
'La Face Cachée de Persepolis' Making Of

Directed By:
Marjane Satrapi
Vincent Paronnaud

Written By:
Marjane Satrapi
Vincent Paronnaud

Starring:
English Language Version:
Chiara Mastroianni
Sean Penn
Catherine Deneuve
Gena Rowlands
Iggy Pop
Amethyste Frezignac
French Language Version:
Chiara Mastroianni
Catherine Deneuve
Danielle Darrieux
Simon Abkarian
Gabrielle Lopes
François Jerosme

Soundtrack By:
Olivier Bernet

Editor:
Stéphane Roche

Production Designer:
Marisa Musy

Producer:
Marc-Antoine Robert
Xavier Rigault

Distributor:
Optimum Home Entertainment