Anime Review Roundup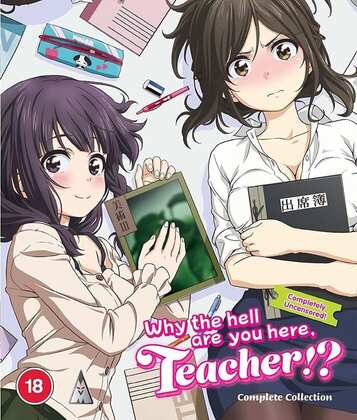 We're talking relationships when it comes to the anime that I'm looking at this week, one good, one not so good.
Why the Hell Are You Here, Teacher!?
is the not so good one. It's a show about four schoolboys and the sexually provocative situations they get into with their female teachers, on their way to developing the kind of relationships that would in real life result in flashing blue lights and the slam of a judge's gavel. It's a saucy, fan-service filled show, a series of thirteen short form episodes. I'm kind of shamefaced to say that I didn't loathe this show with the righteous indignation that I should have. Click on the review to read more.
This Week I Have Been Mostly Rewatching...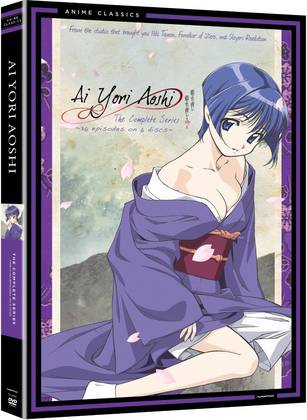 Ai Yori Aoshi. This is the decent-ish show. You can tell by the fact that it's never been released in the UK. I had to import the complete series DVD release (it collects the full length first series, and the single cour Enishi sequel) from the US. It's a harem anime comedy from that period when shows like Love Hina were hitting big, but Ai Yori Aoshi gives its saucy antics a lot of heart by setting its stall out right from the beginning. The main couple, children of powerful business families, were betrothed to each other when very young, but subsequent events ended that engagement. They rediscover each other as young adults, and fall in love, something which can't be countenanced given the boy's fall in social status. But love can't be denied easily, and they have to live the fiction of landlady and tenant to stop tongues wagging, and keep their relationship secret. And then the other girls move in.
Ai Yori Aoshi is a little more risqué when it comes to its fan service, although nowhere nearly as risqué as this week's new release review. But it has imagery that in later shows would demand the obscuration of steam, sunbeams, or conveniently placed turtles. Originally a Geneon DVD release, once that company went under, Funimation picked up the licence and released the whole kit and caboodle as one of their Anime Classics titles.
Here's my review
. This Region 1 release is still available at retail, and is well worth picking up.
MVM will release Why the Hell Are You Here, Teacher!? on Blu-ray on Monday 23rd August.