Anime Review Roundup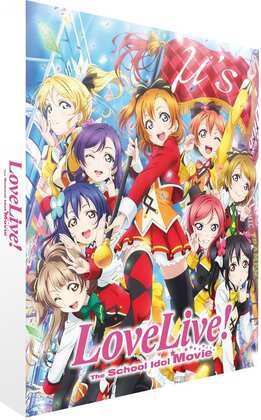 There is now a fourth Love Live series being broadcast. That sort of boggles the mind. It's not as if the premise is broad enough to allow for a great variety of stories, in shows about girl groups and song contests. It's really become the CSI of the anime world. But with
Love Live – The School Idol Movie
, we're going right back to the beginning, with the movie spin-off from the original series. It's been a while getting here too, as it was released in the US over five years ago. It's the final year of high school for some of the group members, which means that they'll be breaking up soon, but they have one final chance for a trip overseas, and more than a few songs along the way. If that sounds familiar to you, you're not the only one. Click on the review to read more.
This Week I Have Been Mostly Rewatching...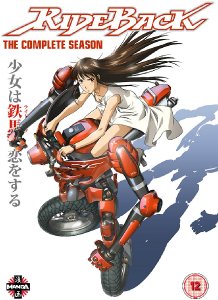 Speaking of ditties, there's an eighties pop song from Sinitta called Right Back Where We Started From, and for some daft reason my brain has made a link between that and the Rideback anime series. It's a totally inappropriate song for a sci-fi drama about political upheaval and revolution, which gets pretty dark in places. An up and coming ballet dancer, ever in the shadow of her famous late mother, suffers an injury that ends her career before it can even start. When she goes to college however, she discovers the Rideback club. Ridebacks are motorcycles that can transform into more humanoid forms, with two wheels becoming more like skates, giving a piggyback to their riders. And the girl finds that she has a talent for riding these machines, so much that she can practically dance again. But this is a world where the political order has shifted, and where the use of these machines has become a hot potato issue. There are those that find it convenient to demonise the Ridebacks and their riders, as that technology was originally used to foment a world revolution in the first place. The new leaders fear losing their power by the same means that they gained it.
Rideback holds up pretty well even now. It helps that it manages to tell its story in a neat twelve episodes, developing its world and its characters within that runtime. It's a smart show, deceptively light at first, but really layering on the drama as it progresses. It's an effective piece of storytelling with a neat, central idea, and with maybe just one or two minor flaws to pick at. Most compellingly, it manages to eschew most of the clichés that populate mainstream anime. It could be considered something of a hidden gem in that regard, and it's well worth seeking out if you can find it. Manga Entertainment released the show on DVD in the UK.
Here's my review
. But if you can find the US release from Funimation, you'll find that the Blu-rays are Region B compatible. At the time of writing, both are still available from your favourite river retailer, which goes some way to prove just how hidden this gem still is, ten years after release.
All the Anime release Love Live! The School Idol Movie on Blu-ray collector's edition today. If it's a DVD you want, there was an Australian release...