Anime Review Roundup
The Fourth and Final Evangelion Movie Comes to Streaming
The Evangelion home video express derailed with the third film, when Studio Khara and Funimation had 'issues' when it came to the dub. That effectively means that with the fourth and final movie, we have no idea where and when it's coming from when it comes to DVD and Blu-ray.
But we are going to get to see it at last, if you're subscribed to Amazon Prime that is. EVANGELION:3.0+1.01 THRICE UPON A TIME will be released to streaming on August 13th, and Amazon Prime will also host the first three films as well.
Quote:
London, UK – 1st July 2021 – Amazon Prime Video today announced the exclusive global launch (outside of Japan) of the highly anticipated Japanese anime blockbuster EVANGELION:3.0+1.01 THRICE UPON A TIME on 13th August.

EVANGELION:3.0+1.01 THRICE UPON A TIME is the fourth and final chapter of the new theatrical edition of Evangelion. The anime film – which is the highest-grossing in all movies by chief director Hideaki Anno and most-watched movie in Japanese theatres in 2021- is from directors Kazuya Tsurumaki, Katsuichi Nakayama and Mahiro Maeda as well as legendary creator, screenwriter and chief director Hideaki Anno (Shin Godzilla). To celebrate the finale of the franchise, Prime Video will also release the three previous movies, EVANGELION:1.11 YOU ARE (NOT) ALONE., EVANGELION:2.22 YOU CAN (NOT) ADVANCE., EVANGELION:3.33 YOU CAN (NOT) REDO. to fans in more than 240 countries and territories.

The blockbuster franchise is a Japanese anime pop culture phenomenon based on the story of Evangelion, an artificial human and multipurpose humanoid weapon, and the Angels, an unknown life-form which takes place after the Earth has been shattered by a cataclysmic event. The film features all original voice actors including Megumi Ogata, Megumi Hayashibara, Yûko Miyamura and uses the latest imaging technology to showcase the personalities and relationships of its unique characters as they fight for survival. It will be dubbed in 10 languages including English, French, German, Portuguese, Spanish and Italian, and offer subtitles in 28 languages.

Since the TV series first aired in 1995, the Evangelion franchise has had a significant impact on Japanese pop culture and has elevated the anime genre worldwide. The legendary anime franchise was then reborn as a new movie series Evangelion: New Theatrical Edition in 2007 and this fourth and final movie released across theatres in Japan in March has gone on to break records, both for Hideaki Anno's films and as Japan's most-watched theatrical movie of the year. EVANGELION:3.0+1.01 THRICE UPON A TIME on Amazon Prime Video will be the latest version of the film which includes revised scenes and is releasing across theatres now in Japan.

ABOUT EVANGELION:3.0+1.01 THRICE UPON A TIME

The fourth and final instalment of the Rebuild of Evangelion. Misato and her anti-Nerv group Wille arrive in Paris, a city now red from core-ization. Crew from the flagship Wunder land on a containment tower. They only have 720 seconds to restore the city. When a horde of Nerv Evas appear, Mari's improved Eva Unit 8 must intercept. Meanwhile, Shinji, Asuka, and Rei (provisional name) wander around Japan.

Studio: khara, Inc.

Chief director: Hideaki Anno, Director: Kazuya Tsurumaki, Katsuichi Nakayama and Mahiro Maeda, Screenwriter: Hideaki Anno
And yes, these titles are getting ridiculous.
Last week's new anime review was for
Owarimonogatari Part 3
, another franchise as extensive, and just as fervently appreciated by its fans as Evangelion. This one seems to be coming to a close in this instalment, as protagonist Koyomi Araragi comes to the end of his high school life, and has to deal with three more supernatural challenges before his college life begins. This is typical of the Monogatari franchise when it comes to the animation, the characters, and the story, and in this series, that is definitely a good thing. Click on the review to read more.
This Week I Have Been Mostly Rewatching...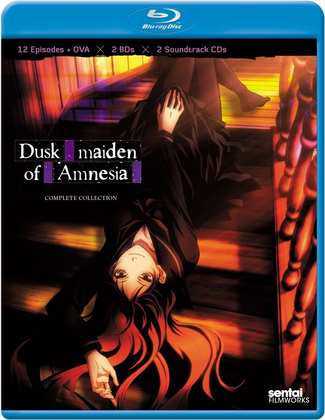 Dusk Maiden of Amnesia. This is about as gothic, horror a romance as you can get in anime. A high school boy falls in love with the ghost of a girl that died a horrible death in his school, years previously. The problem is that she keeps forgetting the details of that event, something that keeps her bound to the school. To investigate this, and the various other spooky mysteries in the school, they start a Supernatural Investigation Club, with a girl who can't see the ghost, and another girl who's terrified of the supernatural, but who has the legacy of exorcists in her family. It's rare for any production to deliver an effective romance, comedy, and horror, all simultaneously, but Dusk Maiden of Amnesia is one show that hits all the right notes.
MVM released Dusk Maiden of Amnesia on DVD in 2014, and it's well and truly deleted at this point. You'll have to go looking for second hand copies. But a show this good needs to be seen in high definition, and Sentai Filmwork's US Blu-ray release from 2013 was Region B compatible, and it came with the show's soundtrack on two CDs.
Here's my review of that.
You've guessed it, it's deleted too, but Sentai have announced that they will be re-releasing Dusk Maiden of Amnesia on Blu-ray later this year. But there won't be any soundtrack CDs, and I wouldn't be surprised if the discs are geolocked to US territories this time.
MVM release Owarimonogatari Part 3 on Blu-ray today.