Anime Review Roundup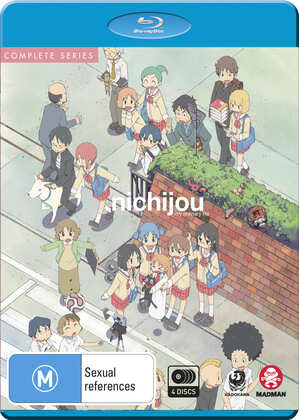 Nichijou is one of my favourite anime comedies. It's a delightful sketch show with quirky characters and a surreal edge from studio Kyoto Animation. I fell in love with it when I saw it streamed, pounced on it when it bizarrely got an Australian exclusive DVD release, and when the
Nichijou Complete Series
finally came to Region B Blu-ray, again thanks to Madman Entertainment via Funimation in the US, I was there on day 1. And just like it is with everything you love, you'll see the flaws first. Funimation finally gave the show a dub, which is a good thing, but they re-translated the subtitles, which is not as good. My favourite anime comedy, made me angry... That's not what a comedy is supposed to do. Click on the review to read more.
This Week I Have Been Mostly Rewatching...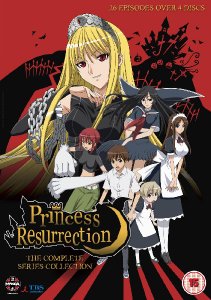 Princess Resurrection. Serendipity is nice. I watch my anime on a loop. I put what I've just watched to the bottom of a pile, and take the next show or movie from the top and move on, although with one episode a night per series, I do have four or five shows on the go at any one time. It's purely a matter of random luck as to what show I'm watching next, from five years plus worth of anime. And this year, as we hurtle towards the end of October, and that day when we all put on our masks to... do our weekly shop or anything else that involves interacting with potentially contagious humans, chance has thrown three spooky anime into the mix for me to re-watch. I'll be suitably motivated for Halloween, and Princess Resurrection is the first of those shows that I'm revisiting.
It's a standard anime cliché at this point, but it begins with the main character dying. Only to be resurrected by the princess of the title. She's the creepy heir to a creepy dynasty, high muckety-mucks in the world of the weird and the supernatural co-existing alongside the normal world. Hiro's brought back to life to be the servant to the princess, and gets pulled into all manner of adventures with werewolves and vampires as the princess tries to avoid being assassinated by her siblings in a battle to see who will be the next leader.
Manga Entertainment released Princess Resurrection as a complete series DVD back in 2012.
Here's my review
, and you can see that I didn't think much of it at the time. A lot of that is down to the lacklustre animation, but some of it has to be put down to the by the numbers storytelling. Yet I must say that I do find a cheap and cheerful charm to the show now that helps it stand up. The premise is solid enough, and were Princess Resurrection to get a remake, decent animation and more effective storytelling, it could be a comedy horror classic, as that trailer and the provocative end theme of the original promise. Princess Resurrection can still be found on e-tailer websites today.
Madman Entertainment released the Nichijou Complete Series Blu-ray in 2019.