Anime Review Roundup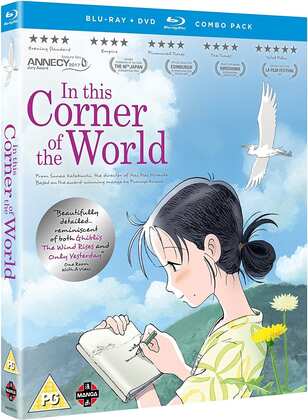 I took a second look at
In This Corner of the World
this week, this time on Blu-ray. This World War II drama finds the perfect balance between hope and despair. Something like Grave of the Fireflies or Barefoot Gen can wear you down with relentless tragedy, so much so that I'm wary of ever watching those films again. In This Corner of the World find a lot more human interest in its story, finds little moments of sunshine as the world proceeds to fall apart. It's a more effective story as a result, and a film I'm more liable to re-watch in future.
This Week I Have Been Mostly Rewatching...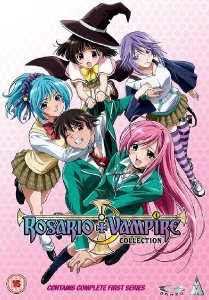 Rosario and Vampire Season 1. Those translators have to work hard for their living. It turns out that even onomatopoeia has to be translated. Just imagine looking 'capu-chuuu' up in a dictionary to find 'chomp-slurrrrp'. When a vampire girl takes a shine to a teenage boy, you'll hear (or read) that a lot. Rosario and Vampire is a harem comedy with a whole heap of fan service. A human boy who flunks his high school entrance exams takes a wrong turn and ends up at a school for monsters instead, and there are plenty of cute monster girls who fall for his milquetoast charms. This first season offers a whole lot of world building with its up-skirt panty shots, and is introducing new characters in practically each episode.
MVM released Rosario and Vampire Season 1 on DVD in 2012. It's deleted now, and pretty hard to find.
Here's my review.
You might have to go looking second hand to source a copy now. Funimation have released a Region A Blu-ray which is still available if you can play Region A that is.
Manga Entertainment released In This Corner of the World in 2017 on Blu-ray and DVD (there was also a 2 disc Collector's Edition BD release that has extra features on a bonus DVD).