Anime Review Roundup
Anime Limited Splurge on Announcments
The social media channels were bubbling away last week with Anime Limited's announcement frenzy, giving us something old, something older, and something brand new, all announcements a sign of their growing affinity to Funimation. First up was the intriguing reveal of two of the
Project Itoh films
, the sci-fi movies Empire of Corpses and Harmony. A few hours later came an announcement that many fans with a nostalgic bent had hoped and asked for; Anime Limited will be releasing
Lucky Star on Blu-ray
, which goes perfectly with their forthcoming Haruhi Suzumiya series release. Finally there was the head-scratcher of the
Eden of the East series
announcement, a show's whose Manga DVD and Blu-ray releases are still available at retail. Anime Limited will be giving it the premium boxset treatment though, probably in line with Funimation's Premium release.
Click on the links for the appropriate Anime Limited Blogs.
Speaking of Funimation...
Either Amazon's getting screwy with their product listings, or a big shake-up is imminent in the UK anime scene. Funimation recently launched their online anime streaming portal in the UK, FunimationNow, and it now seems that they might be entering the UK market as a distributor in their own right. Eagle-eyed anime fans have spotted listings on Amazon for shows like Highschool DxD season 3, Daimidaler: Prince vs Penguin Empire, Gonna Be the Twin-Tails!!, Mikagura School Suite and Rainy Cocoa Seasons 1 & 2 and more, all under the Funimation label. There's been no official word as yet, but they seem to be coming via Lace, the same replicator/distributor that All the Anime use among others. As so often happens, it could be that the Amazon listings have stolen someone's announcement thunder.
News from UK Anime.net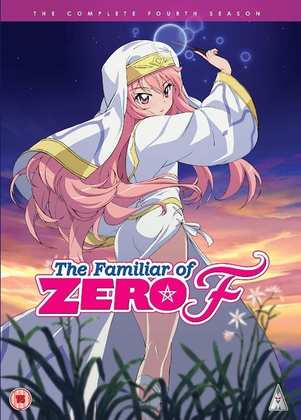 My first review of the week was for
Familiar of Zero: Series 4
, also known as Familiar of Zero F. There's very little I can add at this point, having reviewed three earlier series featuring the explosive, pint-sized mage, and the hapless teen male she summons as a familiar, pulling him out of our world, and sending him on a series of fantastic adventures in a parallel, magical realm. It's all about the romantic harem comedy, in between moments of plot, and our hero will invariably do something that will get him explosively chastised by our heroine. It's comedy of the old school, but one significant difference is that it actually develops the relationship between the main characters. Season 4 actually sees them attempt to cohabit in domestic bliss, only the maid insists on coming along too.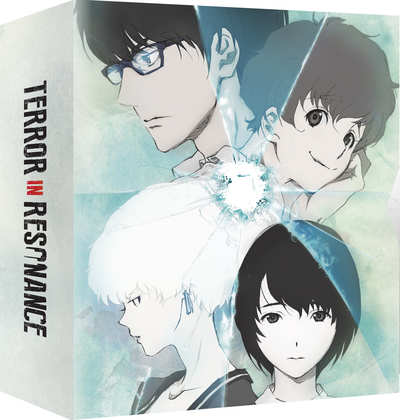 Next it was the turn of
Terror in Resonance: Ultimate Edition
, although of the Ultimate Edition, I only got to see the Blu-ray check discs. This is the third television collaboration between director Shinichiro Watanabe, and composer Yoko Kanno, and on top of all that, it's a noitaminA show, which made it hotly anticipated indeed. As you might suspect from the title, it's an exploration into the mindset of terrorists, two in particular that unleash a reign of terror in Tokyo one summer, in the process dragging a bullied schoolgirl into their machinations. As the police launch a massive manhunt, the reasons behind their actions become clear. Terror in Resonance is a beautifully animated show, and as you might expect, it sounds spectacular, but it fell short of my lofty expectations, given the pedigree of its creators. Click on the review to read more.
This Week I've Been Mostly Rewatching...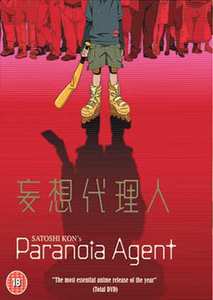 Paranoia Agent. Talk about meeting, and indeed exceeding expectations! Although when I first reviewed Paranoia Agent some ten or so years ago, I didn't even know who Satoshi Kon was. Now, having seen Perfect Blue, Memories, Paprika, Millennium Actress, and Tokyo Godfathers, I find I still lament that loss of talent that was so cruelly snatched away by that wretched disease. Paranoia Agent was the sole television show that Satoshi Kon created, an episodic exploration on the themes of stress, delusion, and indeed paranoia that Kon used as a vessel to play with all those ideas that he hadn't used in his movies. It's typically mind-bending and challenging, very much a Satoshi Kon creation. A young toy designer is attacked late at night, but the description she gives is unlikely, a grade-schooler on inline roller skates, wearing a baseball cap, and carrying a crooked metal baseball bat. The media quickly dub him 'L'il Slugger', and soon there are countless copycat attacks. But the evidence is slim, with the only thing the victims having in common being that they were under extreme stress in their lives.
Paranoia Agent is one of the finest animated TV shows ever made. It was notable enough to get a write-up in the Guardian's review section! Here's a
review for the boxset
from Matthew Smart. After 10 years, you might expect an anime license to have long since expired, but MVM know a good thing when they see one, and they have kept Paranoia Agent in print. It's still available for new from most e-tailers. Here's hoping for a Blu-ray upgrade!
Familiar of Zero: Series 4 comes out on DVD and Blu-ray from MVM on May 9th. All the Anime released Terror in Resonance on DVD, and on BD/DVD Ultimate Edition on April 25th. There will be a standard Blu-ray release in July.