Anime Review Roundup
Miss Hokusai Gets Delayed
This is where I would have been writing about the Miss Hokusai review that I should have posted last week, only at the last minute, Anime Limited indefinitely delayed the release. A
Facebook post
seems to indicate that the last-minute holdback is because they got some extra good stuff from Japan to include with the collector's edition release. So I'd be more optimistic than Amazon about its release coming sooner than November. The downside is that there were no new anime titles reviewed last week.
This Week I've Been Mostly Rewatching...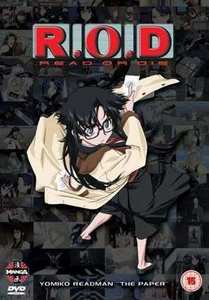 R.O.D. Read or Die, the OVA Series. For my seventh birthday, I got Jules Verne's Journey to the Centre of the Earth in hardcover. When I started reading it, I got so into the story that I only pretended to go to sleep that night, got up after a breathless hour, turned my light back on, and picked up where I left off, determined to finish the book. That's the first time I ever stayed up all night. You can bet that I would appreciate an action hero or heroine that loves books, and Read or Die's Yomiko Readman is so into literature that her apartment is wall to wall with books, she runs tabs at her local bookshops, and she's totally absent-minded except for when it comes to reading. In Read or Die, her primary motivation is to recover a book that was stolen from her so that she can finish reading it. That she happens to save the world in the process is a happy coincidence. Read or Die is a fantastic creation, a James Bond like spy thriller, but one where the dominant force in world intelligence services is the British Library, hence the nature of the show's protagonist. In the OVA, historical figures are cloned, resurrected, and given super powered abilities, and seeing the decadence in the world, they decide to start over with human society, clean out the chaff. Fortunately Yomiko "The Paper" Readman has special powers of her own, the ability to manipulate paper. The three episode OVA series is more movie than episodic anime, and it gets its balance between action, plot, and emotion just right.
Even after all this time, the Read or Die OVA series is my favourite Manga Entertainment release. The animation is excellent, the music score and theme tunes are Taku Iwasaki's finest; he channels his best James Bond, and the show offers vicarious thrill after vicarious thrill. Best of all, even though it's a perfect three episode package, they went and made a full-length TV series which is as good, if not actually better.
Here's my review of the OVA
. Manga Entertainment released the OVA series originally, and a few copies are still available for purchase; try through Amazon marketplace, and there are the usual second hand options. But the Read or Die franchise, both OVA and TV series is one of those where Aniplex own the football. They released an expensive and limited Blu-ray football when they got the rights back, but now they're just sitting on the rights, not letting anyone else play.