Incomedia Announces New WebAnimator Template Collection II. Creating Web Animations Has Never Been Easier or Faster!
Incomedia has released a new collection of templates for their WebAnimator product.
WebAnimator lets you create Web animations, without using Flash! Instead, it uses more modern technologies, such as HTML5, CSS and JavaScript. This means you can be certain that your animations will be correctly displayed on all main browsers, as well as smartphones and tablets (including iPhone® and iPad®).
WebAnimator requires no special knowledge of programming and provides an intuitive and complete package with all the tools necessary to create animations that can then easily be integrated into Web site pages or e-commerce carts.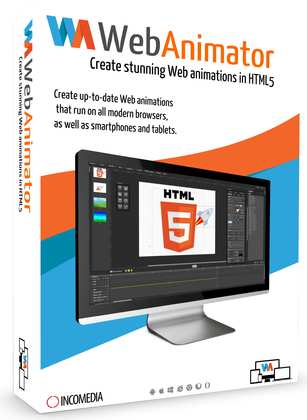 With WebAnimator Template Collection II, the process of creating animations is even easier and faster. Select your template, insert your own content, follow the step by step customization process and your animation is ready for use on the web.
Federico Ranfagni, CEO at Incomedia, said:-
"Thanks to the WebAnimator Template Collection II, anyone can easily design banners and animated slideshows to add to your Web pages. Using a Template means not having to go through the difficult process of designing from scratch using a timeline: simply insert your own content and you're done!"
The Incomedia Template Collection II is a valuable addition to the gallery templates already available in WebAnimator and includes a range of banners and slideshows; complete with effects, transitions, text and buttons.
Template Collection II is available for WebAnimator and WebAnimator Plus.
Availability and Pricing
WebAnimator and WebAnimator Plus are available in Italian, English and German at £44.99 and
£64.99 VAT inc respectively.
WebAnimator Template Collection II is priced at £14.99 VAT inc
System Requirements
Windows XP, Vista, 7, 8
Video resolution min. 1280 x 1024, 32 Bit
2 GB RAM
Internet and e-mail account for product activation
More information, video tutorials, a trial version of the software and previews of the Template Collection are available on the official website:
http://www.webanimator.com
About Incomedia
Incomedia, founded in 1998, is a leading independent developer and publisher of multimedia software for the PC.
Incomedia's flagship product WebSite X5, currently sold in over 40 countries through a well-established network of International distributors, resellers and retailers, was developed with the aim of bringing high-end website creation software at affordable prices to home, business and education users. The software is designed specifically for users who want to publish high-quality websites and online shops, with a professional look and feel in just 5 simple steps.