2014 FIFA World Cup Cartoon Series Hits 2 Million Views in One Week with CrazyTalk Animator 2
4-4-2oons wins over the internet with weekly animation parodies of this summer's FIFA World Cup - thanks to the lighting production speed of CrazyTalk Animator
Animation producer Mark Stobbart is running an animated football parody channel called
4-4-2oons
, producing gut-busting World Cup videos every week. Mark's 2014 FIFA World Cup cartoon series hit 2 million views on You Tube in one week with the help of
CrazyTalk Animator's
fast production and powerful animated avatar features.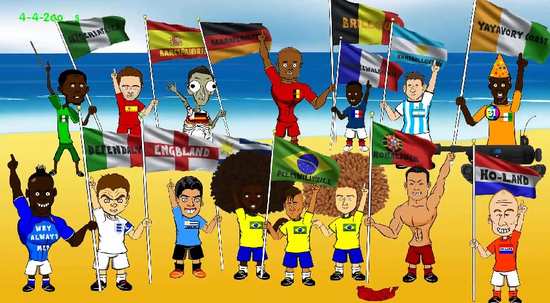 No Other Software Can Deliver Like CrazyTalk Animator 2
When animating concurrent events, it's no wonder why many animators shy away from the production nightmares that daily animation entails, with creation logistics that only powerhouse studios can afford -- but not Mark Stobbart who has unlocked the secret of weekly, almost daily, animation thanks to the muscle of CrazyTalk Animator 2.
Mark originally trained as an actor and voiceover artist in London, having no previous experience in animation. But being a massive fan of animated comedy, and football had motivated him to combine the best of both worlds producing 442oons as a channel that is all about poking fun at the football world.
"No-one is safe!" says Mark. "Ideas, scripting, voicing, singing, editing, most artwork, animating, production and publication are all done by me - as well as promoting the channel!"
"Being a one-man-army has its merits as it helps me make my animation dreams come true by leveraging CrazyTalk Animator's clear advantages like being easy to learn, having customizable characters, fast production and high quality output. CrazyTalk Animator provides a quicker way to get my story and ideas animated and this is the secret that allows me to produce animated videos every day. I also love how easy it is to create customized characters with unique personalities. It helps a lot when I create players that look like real football players in my FIFA animations. During the 2014 World Cup, I have produced around 70 unique characters for 32 teams in total. The latest 2 minute video took only around 8 hours - this was very quick because I could recycle two characters and props that I had already created for earlier videos. It was worth it in the end, and the quality of the final video is so rewarding when I watch it back" explains Mark Stobbart.
What is CrazyTalk Animator 2?
CrazyTalk Animator 2 is a revolutionary animation suite with all the necessary tools to easily create highly customized animations without any background experience.
In the past, it took time and manpower to create fast, high quality animations. For independent hobbyists the idea was almost unheard of, as traditional 2D tools provided no panacea for such an idea. But now CrazyTalk Animator 2 provides an exciting new approach to 2D animation with innovative tools that allow users to easily customize comics, photo-face avatars, and facial lip-syncing. Today, all barriers have been lifted as literally anyone can now easily customize their avatars to depict different personalities, quickly crank out animations to generate videos every day, all with a low-learning curve that takes but weeks to tackle.
Users can also apply 3D motions to 2D characters, while opening new possibilities for freely editing 2D motions and viewing them from any angle with a single click. Combined with functional features like facial puppet and body motion key editing, CrazyTalk Animator has become the most creative software for 2D animations, as it also allows for quick capture export and compatibility with other 3rd party software and tools.
Pricing and Availability
CrazyTalk Animator 2 is available in 3 different versions for Mac and Windows PC to fit any creator's budget. Download versions of CrazyTalk Animator 2 are available from the Reallusion Online Store at
http://www.reallusion.com/store/purchase_cta.aspx
CrazyTalk Animator 2 Standard: £37.99
CrazyTalk Animator 2 Pro: £129.99
CrazyTalk Animator 2 Pipeline: £229.99
For more info and free download, please visit:
http://www.reallusion.com/crazytalk/animator/default.aspx
More about 4-4-2oons and his animations, please visit:
http://www.reallusion.com/reallusiontv/featuredstory/442oons.aspx
About 4-4-2oons
442oons creates animated football parodies, with songs and pictures. It is created by actors and voiceover artists with a love for football, comedy and animation. At 442oons we spent the time teaching ourselves how to do animations in order to be able to combine everything we love into one project!
Twitter.com/442oons
/
Instagram.com/442oons
/
Facebook.com/442oons
/
Plus.google.com/+442oons
About Reallusion, Inc.
Headquartered in Silicon Valley, Reallusion is a software developer providing cinematic animation tools for PC, Mac and mobile platforms. Reallusion's pioneering storytelling technology excelling at character animation, facial morphing and voice lip-sync allows fast creation of interactive avatars for 3-D real-time film making and previsualisation for professional post-production. Their powerful yet easy-to-use tools make character animation accessible to both Mac and PC users of all skill levels. Reallusion's development of core technologies and growing base of intellectual property firmly establish the company as power among emerging technology innovators, furthering their graphic and imaging embedded kernels to top-brand device manufacturers worldwide.
http://www.reallusion.com/