Aardwolf Publishing to release Dave Cockrum's Final Project
THE FUTURIANS RETURN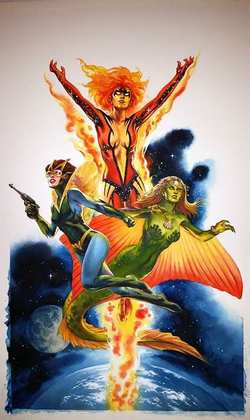 Dave Cockrum's final, never-before-seen FUTURIANS story has everything you loved about Dave's X-Men work—and more!
But Aardwolf wasn't satisfied just assembling a sensational graphic novel scripted and penciled by Cockrum, and inked by Bob Wiacek—we also recruited the industry's royalty to create pin-ups, write-ups, and signed and remarqued bookplates: Neal Adams, Neil Gaiman, Jim Lee, Ray Lago, Adam Kubert, Andy Kubert, Bill Sienkiewicz, Walt Simonson, Mark Wheatley, Mark McKenna, Clifford Meth, and Mike "Bru-Hed" Pascale are just *some* the sensational team "lending a hand" and adding lots of delicious extras to this project, which also sees the professional return of Paty Cockrum ("Amazing Spider-Man", "Claws of the Cat") on colors.
Pre-order the hardcopy graphic novel now and receive the expanded digital version FREE as well as exclusive opportunities to purchase inexpensive original art and signed bookplates from our all-star team. U.S. Price: $25.00 (customers outside of the U.S. will be billed for additional shipping)
In order to partake in this special pre-Kickstarter offer, PayPal your reserve money to
selas[at]moc.gnihsilbupflowdraa
and note "Futurians Reserve".
https://www.facebook.com/pages/Comicbook-Babylon/1452558201639363
http://www.thecliffordmethod.blogspot.co.uk/
http://aardwolfpublishing.com/ap/