More classics in The Ealing Studios Rarities Collection: Volume 13 out on DVD this May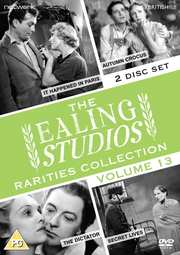 Yes, yes, we know we spent most of last week on
Network Distributing
releases, but sometimes you've just got to go where the classics are. And to prove that this week we kick off with, er, another from this source,
The Ealing Studios Rarities Collection: Volume 13
.
Also part of
The British Film
collection, this DVD contains four films from the vaults of
Ealing Studios
and
Associated Talking Pictures
, in a double disc set out on 19th May, priced at a mere £14.99.
Presented with brand new transfers in their original aspect ratios, these have a combined runtime of approximately 304 minutes.
First up is
It Happened in Paris
, directed by Robert Wyler and Carol Reed, and starring John Loder and Nancy Burne.
In the City of Light, millionaire's son and budding artist Paul falls in love with the beautiful Jacqueline. Believing she will find him more interesting if he can convince her he is poor, Paul finds himself in the midst of a romantic and rather amusing tangle.
Then we have
Autumn Crocus
, directed by Basil Dean and starring Ivor Novello and Fay Compton.
Jenny Grey, an attractive schoolteacher in her mid-thirties, has never had a meaningful romance, until she falls in love with Andreas Steiner, the cheerful, handsome owner of the guesthouse in which she is staying during her holiday in the Tyrol. Andreas, however, is a happily married man with a small daughter.
Then on the second disc is
The Dictator
which is directed by Victor Saville.
Loosely based on real events in eighteenth-century Denmark, The Dictator depicts the tempestuous marriage of King Christian VII and his English consort, Caroline Matilda. Beginning on the night of their wedding, the film then traces the devastating consequences of the Queen's affair with Doctor Johann Friedrich Struensee, the royal physician who earned the trust of the ailing King while pursuing far-reaching plans for liberal reform.
And finally in this set is espionage drama
Secret Lives
, directed by Edmond Greville.
Believed lost for decades, this tells the story of Lena Schmidt, a young German-born Frenchwoman who, following the outbreak of war in 1914, is offered freedom from an internment camp if she agrees to become an agent for the French Secret Service. Lena is forced to pay a heavy price for her bid for freedom.