Anime Review Roundup
The Spring Anime Streaming Season Begins
The clocks going forward means that spring is here, and with the changing of the seasons comes the changing of the anime shows. Crunchyroll is still in the midst of announcing its new line-up, but so far Jo-Jo's Bizarre Adventure and the new series of Mushi-shi have caught my eye. But we do have two dedicated UK streaming services, and their announcements will be pored over by anime fans for the smallest details.
Except that Wakanim is taking a break from UK simulcasts (although that doesn't rule out back catalogue titles), to update their site for later in the year, taking on board some user comments. Animax on the other hand have made their announcements, and for spring we'll be seeing Soul Eater Not!, Date a Live Series 2, Mekakucity Actors, and The Kawai Complex Guide to Manors and Hostel Behaviour! They'll also be continuing with Nisekoi. As usual, you'll get to stream them for two weeks for free (closer to ten days given the odd delay), before they vanish behind the paywall for subscribers only. See
UK Anime Network
for details.
Durarara Blu-rays To Be Re-Authored
If you've read my review of the Durarara Blu-ray release from All the Anime, then you'll have noticed that there were a couple of issues with that release when it came to its subtitles, and especially a lack of a signs only track. Today, All the Anime announced that there will be a re-authoring of the Durarara Blu-rays to hopefully resolve these issues. If you bought the Limited Edition release last month, you can be sure that you'll be at the head of the list when it comes to replacement discs. Since the Blu-ray will be reworked from the ground up, All the Anime have taken the opportunity to use the fixed masters for their DVD release as well, so that has been delayed from its May release to an as yet unspecified date closer to the end of the year. The fixed Blu-ray will be available as a standard release. If you really want the Collector's Edition, get it now and wait for replacement discs, as once the 3000 CEs are gone, they're gone forever. Read more on the
All the Anime blog
.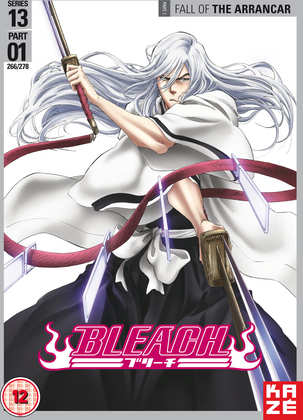 One anime review for you last week, although my enthusiasm was restrained when it comes to yet another instalment of every anime fan's favourite toilet cleaning product.
Bleach Series 13 Part 1
arrived with a tired sigh, offering more of the same portentous shonen pontificating, more of the same endless battles, ridiculous powering up, and predictable dialogue. The show would be so much livelier if they'd just crack a one-liner once in a while. Haven't they learned anything from Arnold Schwarzenegger movies? If you're a Bleach fan, then you might as well buy the discs. If on the other hand you're as bored by this series as I am, you might as well click on the review for a sympathetic position.
Bleach Series 13 Part 1 comes out today on DVD thanks to the gestalt entity that is Manga/Kazé.