Endless Power for Smartphones, Tablets and Kindles
The American XSories Solar Charger and power bank is now available in the UK. It ensures that you never run out of power for your smartphone, Tablet or Kindle. It is a neat unit, about the same size as a smartphone and will pick up solar energy even on a dull day.
It gathers power primarily through the solar panel or through a USB port, though this is rarely necessary. The unit comes with the standard flat plug for charging up a smartphone or tablet and it can also power up a Kindle, using the Kindle cable. The remaining capacity level of the unit can be checked by means of an LED display.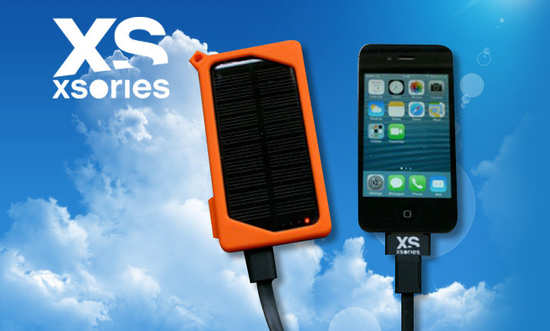 A tough silicone cover protects the charger from shocks and rough outdoor conditions which ensures the durability of the battery. And in daylight it will carry on charging even when hanging from your belt. "Thanks to its compact and lightweight design this is a go-anywhere device," said Gordon Way of Ultra Sport Eu, "Xsories products are invariably great and the Solar Charger is up there with the best."
The unit is distributed in the UK by Ultra Sport Europe at a recommended retail price of £45.99 and is available in a wide range of colours.
Technical Specifications
Solar panel:
5V/110mA/0.55W
Battery:
2,000mAh (±5%) - Li-polymer, 3.7V
DC Input:
5±0.5V/1A. DC Output: 5V/1A
Size
: 116x60x12mm. Weight: 150g.
Materials:
ABS, silicone, aluminium
Solar charge
: 20h AC charge: 2h (1A) - 4h (500mAh)
Included
: USB/Micro-USB/30-pin cable.
Carabiner: 
belt hook.

Colours:
black, white, orange, red, blue, grey, green