Swann Releases New DVR4-1500 Single Camera Compact Security System
The Swann DVR4-1500 Compact Digital Video Recorder and included security camera offers state-of-the-art, professional monitoring in an easy to install, easy to setup and easy to use package all for £199
Swann announces the Swann DVR4-1500 Single Camera Security System.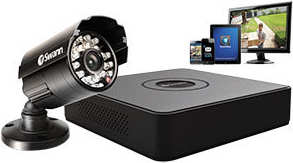 With the Swann DVR4-1500 Single Camera Compact Security System, peace of mind has never been easier - or more affordable at a price of £199.99. Capable of monitoring and recording video from up to 4 cameras, this value for money kit includes a single PRO-510 Camera with the option to add 3 more cameras for the full 4 channel monitoring.. The Swann DVR4-1500 Digital Video Recorder offers you state-of-the-art, professional monitoring in an easy to install, easy to setup and easy to use package. The professional grade PRO-510 Swann TruColour Camera will provide clear video direct to the DVR and can see during the day & night (up to 65ft / 20m). You can expand your security protection by adding up to 3 cameras for full 4 channel monitoring.
Even better, you can also securely access your system from practically anywhere in the world from almost any computer connected to the internet, or even from your 3G/4G capable Smartphone. The SwannView app can be viewed with iPhone, iPad, Android devices and more*.
You're in total control of the DVR's recording modes - easily select your preferred resolution, frame rate and the amount of video compression. You can record from four cameras continuously onto the 320GB hard drive. You can also transfer video incidents to USB flash drive to keep on your PC or forward to other parties.
One of the DVR4-1500's best features is SmartSearch that makes finding recorded footage as easy as pointing and clicking on the screen to plot the area you are interested in viewing. SmartSearch does the rest to find any incidents that have occurred in that space. With its affordable price and expandability, this is a perfect starting point for a home or business looking for a cutting-edge security solution.
The Swann DVR4-1500 Single Camera Compact Security System is professional, affordable, expandable and easy to use. It really is advanced security made easy.
Availability
The DVR4-1500 Single Compact Camera Security System is available at RRP £199.99 exclusively from Maplins.