René Clément's classic Plein Soleil gets a 4K remastering in September on DVD and Blu-ray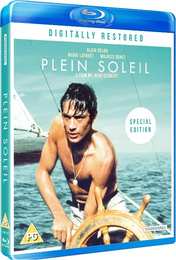 The big thing these days now the industry has begun to become bored with 3D, is 4k remastering. Most of the time it seems to be attempts to make you buy another Blu-ray copy of a not-particularly-old movie from
Sony
. But not this time!
StudioCanal
have announced the release of a 4K remastering for
Plein Soleil
, aka
Purple Noon
, and this is not only coming out on DVD and Blu-ray on 16th September, but also a limited cinema release on 30th August.
Directed by René Clément, this was the first adaptation of Patricia Highsmith's best-selling novel
The Talented Mr. Ripley
, and stars Alain Delon, Maurice Ronet and Marie Laforêt, with music from Nino Rota.
Alas no official details on prices or extras, but we guess around £17.99 for the standard definition and £19.99 for the HD version.
Synopsis and trailer follow...
Tom Ripley is hired by a rich American to bring his errant son Philippe back home to the US. Tom travels to Italy, where Philippe is on an extended holiday with his fiancée Marge, and slowly begins to ingratiate himself into their glamorous, carefree lives.
An ambiguous relationship develops between the two men, with Philippe never missing an opportunity to remind Ripley of the yawning chasm between their social standing. But when Ripley realizes that Philippe is tiring of his company, he hatches a plan to kill his friend whilst the two are at sea together on a voyage, dumping his body overboard.
When he arrives back on dry land, Ripley begins the process of assuming Philippe's identity, slowly taking over the life that he always envied and that is now finally within his grasp.