BBC Worldwide releases in July - Part 2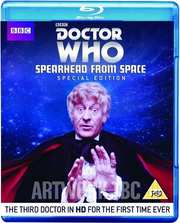 Following on from
yesterday's look
at
BBC Worldwide
releases in July, today we continue with their optical disc schedule for the month, and specifically the two titles set to arrive on the 15th.
The first of these is a Blu-ray version of
Doctor Who: Spearhead From Space - Special Edition
, with the first outing for third doctor Jon Pertwee, companion Liz Shaw and series regular Nicholas Courtney.
Originally shot on film, this has been restored for the HD release and will carry a recommended retail price of £20.42.
Killer shop dummies stalk the streets as evil alien plastic invades…
The TARDIS arrives on Earth in the middle of a meteorite shower and the Doctor is found by UNIT troops and taken to a nearby hospital.
The Brigadier is faced with having to cope not only with the mysterious meteorites but also with Ransome, an ex-employee of a local plastics factory, who claims he has seen a walking mannequin.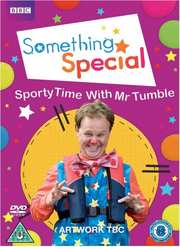 Joining the above, aimed at younger viewers, is
Something Special: Sporty Time with Mr Tumble
, featuring eight episodes and carrying a £10.20 retail price for the DVD version.
This award-winning BBC TV series uses Makaton sign language and is aimed at children with learning and communication difficulties, and it has also proved incredibly popular with many other pre-school viewers.
This release focuses on sporty aspects of young children's lives, featuring clowning and tomfoolery from the irrepressible Mr Tumble, as well as Lord Tumble, Aunt Polly and Grandad Tumble.
Justin visits a fun gymnastics club, Mr Tumble causes some obstacles of his own while Aunt Polly and Lord Tumble are at a football match in Tumbleton.