Brit action flick Welcome to the Punch smashes onto DVD and Blu-ray in July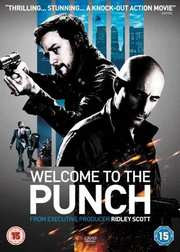 Get excited, for today we have news of a British action flick, arriving courtesy of
Momentum Pictures
on 29th July.
Welcome to the Punch
is directed by Eran Creevy, produced by Ridley Scott and stars James McAvoy, Mark Strong, Andrea Risborough, David Morrissey and Peter Mullan.
Extras will include a behind-the-scenes featurette and Q&A with cast and crew, whilst the recommended retail price looks to be £14.99 for the DVD release and £16.99 for the Blu-ray version.
Synopsis and trailer follow...
Ex-criminal Jacob Sternwood is forced to return to London from his Icelandic hideaway when his son is arrested leaving the country and suffering from a gunshot wound.
This gives Sternwood's arch enemy, detective Max Lewinsky, his last chance to catch the man he's always been after. As the two nemeses hurtle towards each other, they start to uncover a deeper conspiracy that both will need to solve in order to survive.