Kingston SSDNow KC300 Maximizes Power Efficiency for Business and Consumer Use
Kingston Digital Europe Ltd has announced the latest addition to its SSDNow family, the
KC300 solid-state drive
. KC300 enables business, mobile and power users to be more productive as the drive maximises power efficiencies in notebook PCs. KC300 provides advanced power management via an LSI SandForce second-generation SF-2281 processor, allowing users to do more from a single charge.
KC300 is the next-generation business drive, replacing the Kingston V+200 and KC100 SSDs. The drive features enterprise-grade SMART attributes, allowing IT departments to monitor wear range data, SSD life remaining write amplification and total bytes written. KC300 comes equipped with Data Integrity Protection featuring DuraWrite technology to extend the life of the SSD by effectively and efficiently reducing the number of Flash writes via an intelligent compression engine without sacrificing data integrity. RAISE reduces the number of uncorrectable errors in the drive, over and above standard error code correction.
"Kingston's new SSDNow KC300 is designed to help business, mobile and power users extend the lifespan and significantly improve the performance of their PC or notebook with higher speeds, greater stability and reliability," Mathew Mackender Business manager SSD . "KC300 provides greater power efficiency than the traditional hard disk drive, thus allowing users to keep on working longer without having to recharge the battery."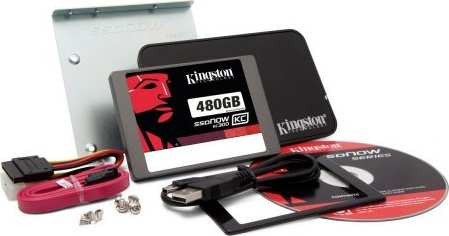 KC300 is available as a stand-alone drive or as an upgrade kit containing cloning software and other accessories for a desktop and/or notebook system
1
. It is backed by a three-year warranty, free technical support and legendary Kingston reliability.
Kingston is celebrating 25 years in the memory industry. The company was founded on October 17, 1987, and has grown to become the largest third-party memory manufacturer in the world. The 25th anniversary video can be found
here
along with more information, including a timeline of Kingston's history. In addition, HyperX memory is celebrating its 10th anniversary. The first HyperX high-performance memory module was released in November 2002.
Kingston SSDNow KC300 Features & Specifications
Form factor: 2.5" drive available in 7.0mm with adapter to fit in 9.5mm systems
Advanced Power Management: extends notebook battery life during typical computing session
Fast: dramatic performance increase for any system upgrade
Endurance: Data Integrity Protection featuring DuraClass technology
Durable: DuraWrite intelligent compression engine extends the life of the SSD
Dependable: RAISE reduces the number of uncorrectable errors on the drive
Multiple capacities: the right capacity to meet your storage need
Guaranteed: three-year warranty, free technical support
Interface: SATA Rev. 3.0 (6Gb/s) – with backwards compatibility to SATA Rev. 2.0
Capacities1: 60GB, 120GB, 180GB, 240GB, 480GB
Controller: SandForce-SF2281
Sequential Reads2: SATA Rev. 3.0 525MB/s
Sequential Writes2: SATA Rev. 3.0 500MB/s
Maximum Random 4k Read/Write3:

60GB: 84,000/ 64,000 IOPS
120GB: 84,000/ 64,000 IOPS
180GB: 84,000/ 64,000 IOPS
240GB: 84,000/ 52,000 IOPS
480GB: 73,000/ 32,000 IOPS

PCMARK® Vantage HDD Suite Score: 57,000
Power Consumption: 0.6 W (MAX) Idle / 1.4 W (MAX) Read / 2.9 W (MAX) Write
Storage temperatures: -40°C ~ 85°C
Operating temperatures: 0°C ~ 70°C
Dimensions: 69.8mm x 100.1mm x 7.0mm
Weight: 60GB, 120GB, 180GB, 240GB — 86.0g; 480GB: 92.3g
Vibration operating: 2.17G Peak (7–800Hz)
Vibration non-operating: 20G Peak (10–2000Hz)
Life expectancy: 1 million hours MTBF
Warranty/support: three-year warranty with free technical support
Total Bytes Written (TBW)5:
60GB: 47TB
120GB: 94TB
180GB: 141TB
240GB: 188TB
480GB: 375TB
1 Actual available capacity for data storage is less than as listed on the products due to formatting and other functions. See
kingston.com/flashguide
.
2 Based on "out-of-box performance" with ATTO Disk Benchmark 2.41. Speed may vary due to host hardware, software and usage.
3 Based on "out-of-box performance" with IOMeter.
4 Operating system software support: Windows® 7, Windows Vista® (SP2), Windows XP (SP3)
5 Total Bytes Written (TBW) refers to how much total data can be written to an SSD for a given workload before the drive reaches its endurance limits.
SSDNow KC300 Drives
Part Number - Capacity and Features
SKC300S37A/60G
60GB SSDNow KC300 SSD SATA Rev. 3.0 2.5" (7mm height) w/Adapter
SKC300S37A/120G
120GB SSDNow KC300 SSD SATA Rev. 3.0 2.5" (7mm height) w/Adapter
SKC300S37A/180G
180GB SSDNow KC300 SSD SATA Rev. 3.0 2.5" (7mm height) w/Adapter
SKC300S37A/240G
240GB SSDNow KC300 SSD SATA Rev.3.0 2.5" (7mm height) w/Adapter
SKC300S37A/480G
480GB SSDNow KC300 SSD SATA Rev. 3.0 2.5" (7mm height) w/Adapter
SKC300S3B7A/60G
60GB SSDNow KC300 SSD SATA Rev. 3.0 2.5" (7mm height) Upgrade Bundle Kit
SKC300S3B7A/120G
120GB SSDNow KC300 SSD SATA Rev. 3.0 2.5" (7mm height) Upgrade Bundle Kit
SKC300S3B7A/180G
180GB SSDNow KC300 SSD SATA Rev. 3.0 2.5" (7mm height) Upgrade Bundle Kit
SKC300S3B7A/240G
240GB SSDNow KC300 SSD SATA Rev. 3.0 2.5" (7mm height) Upgrade Bundle Kit
SKC300S3B7A/480G
480GB SSDNow KC300 SSD SATA Rev. 3.0 2.5" (7mm height) Upgrade Bundle Kit