I AM BREATHING to screen as part of the 2013 Edinburgh International Film Festival
I Am Breathing
will raise awareness to mark Global Motor Neurone Disease Day on 21st June, launching with its UK Film Premiere at EIFF on 20th June.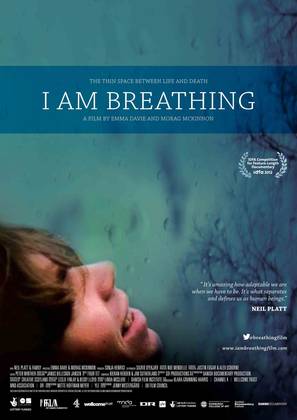 Critically-acclaimed feature documentary
I AM BREATHING
will raise money and awareness for Global Motor Neurone Disease Awareness Day on 21st June 2013 through a global screening day, launching with the UK Premiere at the Edinburgh International Film Festival the previous day (20th June 2013). Scottish Documentary Institute (SDI) and the Motor Neurone Disease Association (MNDA) will collaborate to promote awareness and raise funds with cinema and community screenings of the film all over the world on 21st June 2013. Participating so far are the Balkans, Australia, USA, Finland, Denmark, The Netherlands, Russia and New Zealand.
I Am Breathing
is the hard-hitting story of Neil Platt – a thirty-three-year-old Yorkshireman who contracted Motor Neurone Disease. Paralysed from the neck down with only months to live, he tells his story to help raise awareness around his devastating disease and dedicates the film to his one-year-old son Oscar. Collaborating with filmmakers Emma Davie and Morag McKinnon on
I Am Breathing
, he used his remaining months to communicate about his illness. He also wrote a blog and committed himself to playing a part in making MND history by inspiring a community of people to join the fight.
I Am Breathing
is a co-production between SDI Productions and Danish Documentary, with investments by Creative Scotland, Danish Film Institute, Wellcome Trust, MND Association and the former UK Film Council. Broadcasters involved in the production are Channel 4, DR (Denmark) and YLE (Finland).
Directors Morag McKinnon and Emma Davie said: "When we started filming with Neil, it was very much from his initiative. He put out a request in his blog for anyone involved in the media to come and speak to him. We planned initially to make a short film for MND but somehow his ambition, honesty and desire to communicate pushed it to be a much bigger film.
I Am Breathing, 
like the blog is about creating community around this horrendous disease – reminding us of a humanity in the midst of such suffering. This community grows with every screening – just as Neil planned."
Farah Nazeer, Director of External Affairs for MNDA, said: "We know that raising awareness of MND is incredibly important to our members.
I Am Breathing
gives us a unique opportunity to reach out and educate people with no previous knowledge of the disease."
Sonja Henrici, Producer of
I Am Breathing
said: "We love exploring new partnerships with festivals, organisations, venues and audiences. MNDA has believed in our film from thestart, and through them we initiated the Global Screening Day to coincide with the MND/ALS Global Awareness Day. We are excited that Edinburgh, where Neil and Louise met, will be the hub of our Global Screening Day in partnership with Edinburgh International Film Festival. These collaborations are essential for experimenting with such a multi-platform release. We are keen to hear from other people and organisations who want to participate and expand the vision of this release."
Chris Fujiwara, Artistic Director of EIFF, said, "We're proud to host the premiere of this shattering film.
I Am Breathing
is a documentary that says a great deal, with great eloquence and heart, about the ability of humanity to sustain and express itself under the most terrible limitations."
For more information about how you can play your part in supporting awareness for
I AM BREATHING
Global Screening Day and to host your own screening of the film, go to
www.iambreathingfilm.com/global
World Premiere in IDFA Competition for Feature Length Documentary, Amsterdam 2012
Nordic Premiere at DocPoint - Helsinki International Documentary Film Festival 2013
North American Premiere at True False Film Festival 2013
"Intimate documentary examining a normal-but-remarkable man and wife's handling of his fatal disease ranks among the year's most moving films."
Hollywood Reporter
"quietly demonstrates how life continues to flourish even in the face of death. "
Screen Daily
"A Doc to Watch in 2013"
Indiewire



About MNDA




The Motor Neurone Disease Association is the only national charity in England, Wales and Northern Ireland that funds and promotes global research into the disease and provides support for people affected by MND.
We are a membership organisation with nearly 8,000 members forming a powerful national and local network that provides information and support alongside fighting for improved services.
We now have over 3,000 active volunteers in England, Wales and Northern Ireland and 140-plus paid staff, all dedicated to improving the lives of people affected by MND, now and in the future.