Anime Review Roundup (Updated)
Update - Newsflash! Manga Entertainment License Steins;Gate


So there I am, minding my own business, when this flashes up on Facebook, and on Twitter, and in my e-mail inbox...
Quote:
BREAKING NEWS:
We're happy to announce that Manga UK has licensed the series Steins;Gate for release on DVD and Blu-ray in 2013.

The series will be released over two half season sets with Part 1 arriving on 15th July and Part 2 following on 30th September. The SRP will be £24.99 on DVD and £34.99 on Blu-ray for each release.
That's the best anime series of the last couple of years, coming to the UK on home video. You can send me to heaven now. Actually not now but in October, after I've watched the Blu-rays.


AllTheAnime Reveal Their Theatrical Licence
The news thunder was taken on Friday, when Manga Entertainment had the licence announcements to top all licence announcements. But the anime world keeps spinning, and news keeps on happening. Sunday saw the reveal of AllTheAnime's first theatrical release, and they did so by premiering it in Glasgow on Sunday evening. Or at least that was the plan. As occasionally happens, the film didn't actually get there in time for the show, and 5 Centimeters Per Second was shown instead. That didn't stop AllTheAnime from revealing that their first theatrical anime film will be Kenji Kamiyama's reimagining of 009 Re:Cyborg. Stay tuned to your local cinema news, as it's very possible that 009 Re:Cyborg will be appearing in the next few months in your neck of the woods. While its theatrical run will be in Japanese with subtitles. AllTheAnime also revealed that they will be dubbing it for eventual home video release. See
their blog post
for more details. And here's a trailer...
As a little extra for the attendees at Glasgow who missed out on the screening, they also revealed that they have the home video rights to The Place Promised in Our Early Days, which was originally released here by ADV, and was briefly announced, then unannounced by 101 Films earlier this year. Fingers crossed for a Blu-ray upgrade...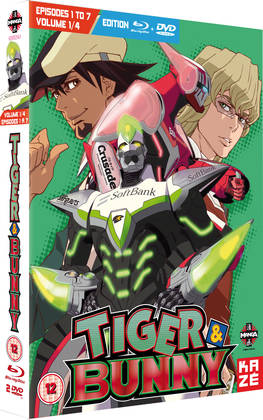 Two reviews for you this week, beginning with the UK debut of the long awaited Tiger & Bunny. With the recession biting, and anime producers retrenching, it's unexpected for someone to aim for the mainstream and global audiences, but it's a risk that Studio Sunrise have taken with the superhero reinvention of Tiger & Bunny. Taking a US comic book genre, and re-imagining the hero for the modern age, making them beholden to corporate sponsors, and taking part in a reality TV show as they go about their superhero business, is all a stroke of genius. See how the premise is brought to the screen in the review of
Tiger & Bunny Part 1
.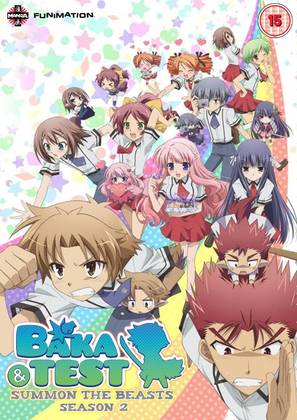 Then it was the turn of
Baka & Test: Summon The Beasts Series 2
. I loved the first series of this anime comedy, which while loaded with every cliché and fan service trope, and aimed at a very specific otaku demographic, managed to transcend its origins and deliver something universally hilarious. Series 2 offers more of the same, but with enough of a twist to supply something fresh and original too, choosing not to simply rehash what has come before. It's a comedy that makes me laugh, which given my cynical outlook is a rare and much appreciated thing.
It's all Manga Entertainment this week, and Tiger & Bunny Part 1 was released last Monday on behalf of Kazé in Blu-ray DVD combo form with some attractive physical extras. Baka & Test: Summon the Beasts: Season 2 is pure Manga Entertainment, and it comes out today.