Anime Review Roundup (Updated)
MVM Have 4 Licenses Lined Up For The UK
Last week, MVM offered a little tease on
Facebook
. They didn't name any names, but let slip that they have four more licenses lined up for later this year. One will be a new title, subtitle only, which made its debut in 2012. The other three are 'stone cold' classics as MVM put it. One of the three is a re-release of a title that has previously seen a UK release, the other two have never been released in the UK before. With Beez and ADV out of business, and their licenses up for grabs, as well as a couple of Geneon classics whose MVM licenses have lapsed in the previous year, speculation is rife on just what these titles may be. A small part of me hopes that it isn't the stone cold classic that I imported at the end of last year and I'm reviewing now.
Anime on Demand's Winter Season Title Announcements Kick Off
A new season means a new batch of anime for online streaming, and Crunchyroll has been letting fly with the announcements all last week. The UK's streaming service
Anime on Demand
also has a few titles to announce, and with this season being just as free to watch as the previous one, I'm eager to share the good news. Of course
Magi
will be continuing this year, but there are five new titles to reveal, and so far we have four of them, beginning with the much anticipated KyoAni title,
Tamako Market
and also
Mondaiji-tachi ga Isekai kara Kuru Sou Desu yo?
The other two are titles that Crunchyroll are pointedly blocking from the UK (but not Ireland),
Mayou
, and
Student Council's Discretion - 2nd season
.
Update: Anime on Demand Have Announced their final licence for the Winter Season, and it's
nas-imasaS[at]ianarabnaG
!
Updates About 101 Films and Elfen Lied
The big new distributor on the block may come from Anime Limited, but that was an announcement that somewhat stole the thunder of 101 Films, who a few weeks earlier revealed that they were dipping their toes into anime with the re-releases of
Elfen Lied
and
The Place Promised In Our Early Days
. Well, since then, the Makoto Shinkai movie has vanished from schedules, and 101 Films have confirmed that the licence is now in another distributor's hands. I can smell Blu-ray for this one. Anyway,
Elfen Lied
is still coming out on January 28th, will be on four discs (most likely the original ADV masters), presented in a digipack with a fold out poster for £49.99 RRP.
News from Anime UK News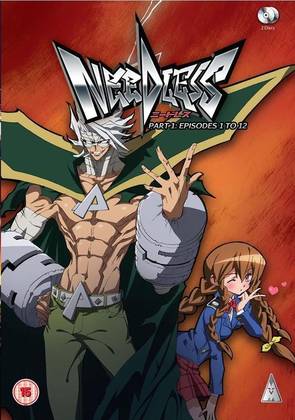 Two reviews this week, both titles get the same grade out of ten, yet one I enjoy and the other I loathe. Proof positive that all these grades are just so much pie in the sky. First up is the review for
Needless: Part 1
, a show which falls neatly into the daft fun category. A post-apocalyptic world where the mutated and super-powered Needless are confined to a polluted and devastated dead zone in the middle of Tokyo, makes them targets for a nefarious pharmaceuticals corporation and its scheming CEO. When the Needless protest, the crackdown is brutal, and a young survivor named Cruz winds up with an unconventional musclebound priest and his shapeshifting sidekick. Together they form the unlikely resistance against the Simeon Corporation. It sounds like a dark and depressing anime, but it's anything but. Click on my review to read more.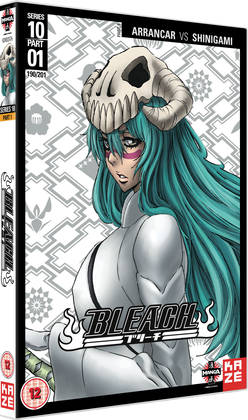 I don't want to talk about
Bleach Series 10: Part 1
again, so soon after I reviewed it. Just click on the review and read me whinge. But this volume does have a little toddler girl that magically transforms into a big-boobed babe. Jeez! When I put it like that, it makes it look like those tabloid freak-outs against pernicious anime porn infecting our youth have a point. It's okay really. The big-boobed babe then transforms into a big-boobed centaur, which makes it all right.
MVM release Needless: Part 1 today, while Bleach Series 10: Part 1 comes forth from Kazé via Manga Entertainment next week on Monday 14th.