Anime Review Roundup
New Licenses Ahoy!
Well, not exactly new if they've been released here before, but as so often happens, a BBFC submission alerted fans that something was up at Kazé. They later confirmed at
Anime News Network
that they are going to release Streetfighter II: The Movie on Blu-ray. That's Streetfighter II, the anime movie, not Streetfighter II, the Kylie movie. It's been previously released here by Manga Entertainment on DVD, and there's no word as yet from Kazé on whether it will get a DVD re-release.
But the big news of the weekend came from Anime Limited, Andrew Partridge's (formerly of Beez, and current Kazé, Anime on Demand, and Scotland Loves Anime wizard) new company. The distribution label for Anime Limited may be shy of a name as yet, but their first licence certainly isn't.
Cowboy Bebop is returning to the UK in Q3 2013, and this time it's coming in Blu-ray. That announcement is something of a coup, as it hasn't yet been announced for the US or Australia. There will be a DVD re-release as well, and Anime Limited is promising us something a little more special for that than the previous Beez release. I'm already squeeing for this premium title on Blu-ray though, and it seems that they'll be working from the materials used in the recent Japanese release. They'll be announcing their second licence on January 31st, or when they pass 2000 Facebook likes, whichever comes first.
News from Facebook
.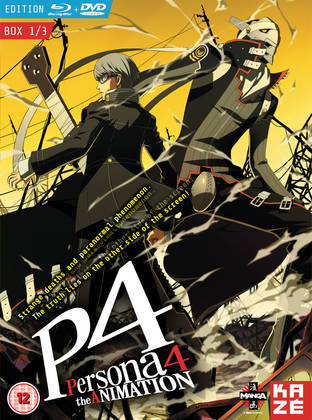 Two reviews for you this week, beginning with one of the most anticipated titles of the year,
Persona 4: The Animation – Part 1
. I have to admit that I'm not one of the anticipators in this case, as the whole videogame scene has long since left me behind, and I'd never even heard of the Persona games before I encountered this anime, when it was streamed last year. So what you get when you click on my review is my opinion of the show taken at face value, with no comprehension of the franchise that it's spun off from, or that it refers to. To me it's an interesting mystery cum fantasy that offers a fair bit of entertainment. Click to read more.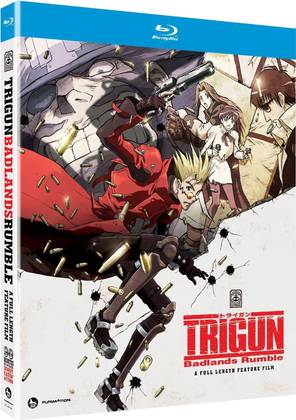 Finally there was
Trigun: Badlands Rumble
on Blu-ray. No, you're not seeing things, I did actually go and review it again. Kazé Entertainment recently released this title and I found their disc a little lacking. In my opinion, their presentation of the film on its disc left much to be desired, although the box had a couple of nice extras in the form of a booklet and mini-poster. I went and imported the Funimation disc as well, and had a look at that. Unlike Kazé, they pretty much do no wrong with how they author their content. And unlike Kazé, they completely fail at packaging that disc.
It's all Blu-ray this week, with Persona 4: The Animation - Box 1 coming out via Manga Entertainment from Kazé on a DVD-Blu-ray combo pack, while Funimation released Trigun: Badlands Rumble on Blu-ray back in 2011.