Rise Of The Footsoldier : Extreme Edition - coming on Christmas Eve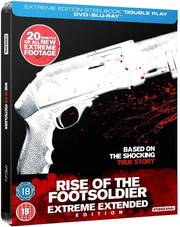 When
RISE OF THE FOOTSOLDIER
was released 5 years ago it redefined the British Gangster genre.
On 24th December RISE OF THE FOOTSOLDIER THE EXTREME EDITION
is going to do it all over again with a whole new cut of the film that not only boasts 20mins of extreme footage but also more violence, more guns and more sex!
Available in a limited edition double play steelbook including both DVD and Blu-ray the all-new-cut is a must have for fans of the genre and also includes an all new
commentary and an interview with visionary director Julian Gilbey
(
A Lonely Place to Die
). If you think you've seen
Rise Of The Footsoldier
, you ain't seen nothing yet!
HOOLIGAN. GANGSTER. LEGEND.
This British crime epic charts the inexorable rise of Carlton Leach from one of the most feared generals of the football terraces to leader of a notorious gang of criminals who rampaged their way through London and Essex during the late eighties and early nineties. The story spans three decades: from football hooliganism through to Leach's burgeoning career as a bouncer, his involvement in the criminal aspects of the early 'rave' scene and subsequently his rise to power as one of the most feared and respected villains in the country. As his notoriety increased, Leach became entwined in a violent series of events, which culminated in the Rettendon Range Rover murders of 1995, one of the most infamous slayings in British Gangland history. This is his story.
Extras
New & exclusive interview with director Julian Gilbey
New & exclusive commentary with director Julian Gilbey and actor Terry Stone
Filming the Footsoldier: Making of
Interview with Carlton Leach
Auditions/ Out-takes/ Image Gallery/ Trailer
RUN TIME: 130mins (DVD) 135mins (BD)
CERT: 18
RRP: £19.99