Frightfest winning chiller Berberian Sound Studio comes to DVD and Blu-ray in December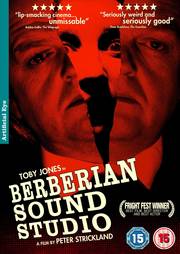 Like an eerie original chiller? Then
Artificial Eye
have one arriving on 31st December for you! Winner of no less than three awards at the 2012
Film 4 Frightfest
,
Berberian Sound Studio
is written and directed by Peter Strickland, this stars Toby Jones, Tonia Sotiropoulou and Cosimo Fusco, with a soundtrack by British indie electronic band,
Broadcast
.
Alas, no details to bring you other than a runtime of 92 minutes, but expect a street price of around £12.99 for the DVD and £14.99 for the Blu-ray.
Synopsis and trailer follow...
It's 1976 and timid, Dorking-based sound engineer, Gilderoy, has been transplanted to Italy's run-down Berberian Sound Studio to work on The Equestrian Vortex, the latest low-budget horror movie by notorious exploitation maestro Giancarlo Santini.
Gilderoy's task is a seemingly simple one: to create, record and mix the sounds of bloodcurdling screams, limbs being severed and the insertion of red hot pokers into human orifices, mostly using a variety of everyday household items such as old vegetables and a hammer.
But Gilderoy is totally unprepared for the graphically grotesque images on show, the effect they have on him and for the unusual working practices of his employers.
As he becomes more deeply involved in his work, the line between fantasy and reality becomes blurred and, very subtly, Gilderoy's life begins to imitate art in a nightmare scenario from which he may never escape.