Touch Animation is Here!" Intel Inside Scoop on CrazyTalk and Ultrabook
The Intel Inspired Ultrabook brings Touch-Enabled Emotions to Life - Touch Animation is here.  Even kids can use it.
 
Optimizing CrazyTalk Animator for the Ultrabook™ Device. 
John Martin, vice president of product marketing for 
Reallusion
, was nothing but smiles when describing the Ultrabook. "The Ultrabook is fantastic. There's so much power in such a small form factor," he said.  Animation software developer, Reallusion, is in the smiles, frowns and any other emotion business with its CrazyTalk Animator, which allows users to create actors using any photo or illustration and animate these actors in 2D.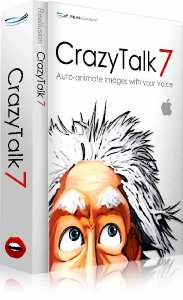 Reallusion had early access to develop on the Ultrabook and the company was able to kick-off development of CrazyTalk Animator for the touch capabilities of Ultrabook. "After you've created your character from a photograph, you can now work on the emotion using touch. It's a lot like digital puppeteering. You can animate everything based on touch." 
http://blog.reallusion.com/imported-data/2012/10/25/touch-animation-is-here-intel-inside-scoop-on-crazytalk-and.html