Christian Slater stars in horror Playback out in July on DVD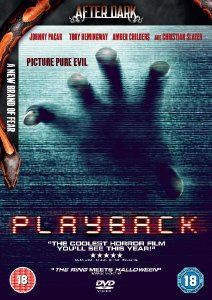 Where to start? How about this,
After Dark UK
are set to release what they claim is a new horror that will have even the hardened horror fan hiding behind the sofa. Alas we can't really tell you how much truth there is in that marketing blurb, all we can tell you is this has been directed by Michael A. Nickles who also made the 2008 flick
XII
.
Anyway, out on 16th July,
Playback
stars Christian Slater, Ambyr Childers, Toby Hemingway and Johnny Pacar. Street price should be around £11.99, but beyond the fact this is a 15 certificate, we have no other details unfortunately.
Synopsis and trailer follow...
When a group of high school students dig into their town's infamous past they unwittingly unlock an evil that corrupts and destroys them. Possessing its victims through video playback and using them for malevolent purposes, it closes in on one specific soul, threatening to expose the town's deepest, darkest secret.