Jo Nesbø's Norwegian thriller Headhunters hits DVD and Blu-ray in August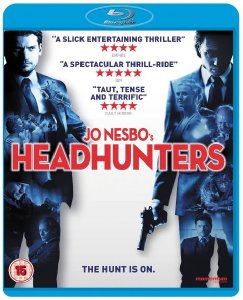 When something is described as "from the producers of" this or that, we tend to worry that the product isn't going to be all that great. However, this time, perhaps things are different! Because, from the producers of
The Girl With the Dragon Tattoo
comes a thriller based on the novel by norwegian author Jo Nesbø.
Momentum Pictures
are releasing
Headhunters
on Blu-ray, DVD and download this 13th August. With a cast that includes Nikolaj Coster-Waldau (you will recognise him from HBO's TV epic series
Game of Thrones
), Aksel Hennie and Julie R. Ølgaard, it should come as little surprise that this is the highest grossing foreign-language film of 2012 so far.
Needless to say there is an American remake on the way too, but purists might want to check the original out first. Extras will include a making-of featurette, whilst the DVD and Blu-ray discs will set you back £17.99 and £19.99 respectively.
Synopsis follows...
Roger Brown (Hennie) seems to have it all, an exceedingly beautiful wife and a luxurious villa and is a high flying, successful corporate headhunter. He's the best in the business and he knows it.
But one career is not enough to fund Brown's extravagant lifestyle and he becomes embroiled in high profile theft on the side, relieving his wealthy new recruits of their valuable artwork.
So when Brown discovers his latest candidate, the accomplished and handsome Clas Greve (Coster-Waldau) owns one of the most sought after paintings in the world, he sees a way out of his financial problems for good and embarks on his most dangerous heist yet.
But nothing could prepare Brown for what he finds in Greve's apartment and what follows is a dark and relentless game of cat and mouse, as the hunter becomes the hunted.