ITN documentary The Queen: A Diamond Jubilee Celebration comes to DVD on 28th May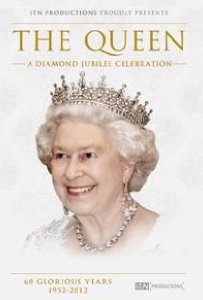 Can't get enough of 'Er Royal Highness? Award winning
The Queen
out at the end of this month not enough for you? Joining it on the same day, is the
ITN Production
of
The Queen: A Diamond Jubilee Celebration
, destined to mistakenly end up in the bags of shoppers who can't tell the difference between Helen Mirren in a wig and the real thing.
Out on 28th May, you can re-live the highs and lows of Elizabeth II's reign, following how she has had to adapt her own values in order to forge a place for the monarchy in modern society.
Options are between a single DVD retailing at £14.99 and running for an hour, or a three disk box set for £29.99 and containing three hours of content.
Synopsis is as follows...
"I declare before you all that my whole life, whether it be long or short,
shall be devoted to your service and the service of our great imperial family to which we all belong."
- PRINCESS ELIZABETH of YORK, 1947
Featuring unrivalled archive footage from ITN and other respected international news libraries, as well as footage from unique home movies made by those who were present at important moments of Queen Elizabeth II's life, this ITN Production recounts her reign in vivid and nostalgic detail.
There are also interviews from Royal correspondents as well as some famous faces, Dame Julie Andrews, Dame Helen Mirren, Royal biographer Andrew Morton, Broadcaster Andrew Marr, Alastair Campbell and the former Prime Minister Sir John Major to name but a few.
The Queen's reign has seen such incredible historic events such as; The World Cup (1966), The Falklands War (1980), the wedding of Prince Charles and Lady Diana (1981) -and her untimely death in1997and the Empire Tours in the 1950's, all of which, and more, are covered in this release.