The porn mockumentary Hardcore: Bare Naked Talent comes to DVD this April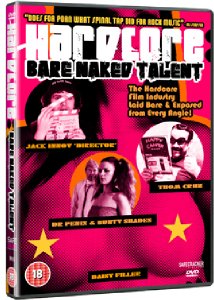 HARDCORE: BARE NAKED TALENT
THE PORN MOCKUMENTARY
DIRCETED BY
LINDA BOREMAN
PRODUCED AND WRITTEN BY
MARK WITHERS
STARRING:
JACK INNOV,
THOM CRUZ,
BUNTY SHADES,
DAISY FILLER,
DEREK "TINTO" BRASS
"This does for porn what
Spinal Tap
did for rock music"

MJ Simpson
THE HARDCORE FILM INDUSTRY LAID BARE AND EXPOSED FROM EVERY ANGLE
Film-maker 'Jack Innov' wants to make serious movies but after years spent making low budget horror film rip-off's, he realises his only chance is to bank roll his dreams on the back of a sweeping romantic self-penned porn epic titled 'Assanova'.
Alas Jack's quest to film his tour de force is beset with difficulties right from the start. Managing the minuscule budget is a piece of cake compared to the antics of the eccentric and eclectic cast and crew, (including, a junkie continuity girl, a naked German cinematographer and a pair of lesbian actresses who feel uncomfortable using explicit language). In the midst of this madness Jack is forced to come to terms with his own sexual inexperience, (as knowledge of only one sexual position can be a key impediment in the porn world).
The whole bungling enterprise is bank-rolled by two gormless gangsters, Ron and Reg, one obsessed with the immense bosoms of the female cast while the other is more concerned with the Greek leading man's over-endowed bonhomie and manhood.
But Jack is a man on a mission and no mishaps or obstacles will sway him from the creation of his modern minor masterpiece. The show must go on.
Hardcore
is released on
16 April
and comes with a whole host of extras.
EXTRAS
Commentary with Jack Innov and Mark Withers
Circumcised Scenes
Bunty Shades Audition
Garden Scene Rehearsal
Jack Innov Promo
DVD SPECIFICATIONS
Running Time: 95m
Certificate 18
RRP £15.99
Cat Number: SP015
Bar Code: 5060036892920