Horror flick The Wicker Tree comes to DVD and Blu-ray this April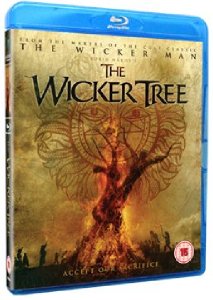 FROM THE CREATORS OF THE CULT CLASSIC
The Wicker Tree
ON DVD & BLU-RAY 30 APRIL 2012
DIRECTOR
Robin Hardy
STARRING
Graham McTavish
,
Britannia Nicol
,
Henry Garrett
,
Honeysuckle Weeks
,
Jacqueline Leonard
And a special guest appearance by
Sir Christopher Lee
ACCEPT OUR SACRIFICE
1973 saw the release of one of the most famous horror films of all time -
The Wicker Man
, which is now regarded as a classic of British cinema. Now, 39 years later, comes the most anticipated horror film of 2012 -
The Wicker Tree
.
Once again directed by
Robin Hardy
and featuring a guest appearance from the legendary
Sir Christopher Lee
, this new haunting film welcomes us to a new terror starring
Graham McTavish
(
Rambo,
2008 and the upcoming
The Hobbit,
2013),
Honeysuckle Weeks
(
Foyle's War
),
Henry Garrett
(
Red Tails
), British favourite
Jacqueline Leonard
(
Chaplin, Doctors
) and introducing
Britannia Nicol
in her stunning acting debut.
Synopsis
A Texas gospel singer and her boyfriend, both devout evangelical Christians, are sent to Scotland on a mission to spread the word of God. After a concert in Glasgow Cathedral the pair are invited by Sir Lachlan Morrison (McTavish) to preach in his remote border village. They assume their host simply wants to hear more about the Bible and are delighted when offered central roles in the fiefdom's May Day celebrations, especially their custom of the Riding of the Laddie. But soon the horrifying reality dawns on the naïve couple as they learn the true significance of the Celtic pagan rites.