Carol Reed's BAFTA nominated Outcast of The Islands comes to DVD in April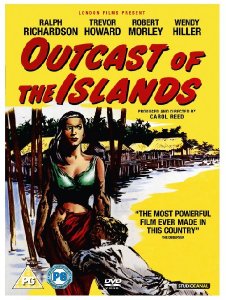 OUTCAST OF THE ISLANDS
50th ANNIVERSARY
Directed by Carol Reed
Starring Ralph Richardson, Trevor Howard and Robert Morley
UK DVD PREMIERE
Out To Own
April 23rd, 2012
Adapted from The Joseph Conrad novel of the same name, 1952's inimitable OUTCAST OF THE ISLANDS, directed by Oscar winning director Carol Reed
(The Third Man, Oliver!),
features Trevor Howard
(Brief Encounter, The Third Man)
as Willems and Ralph Richardson
(Peer Gynt, Falstaff)
as Lingard.
Peter Willems, a morally compromised man, is on the run from a scandal in Makassar when he finds himself stranded on a remote Indian Ocean trading outpost, where his malign influence soon spreads to all around him, including fellow English ex-pat Almayer (Robert Morley) and the crafty native Babalatchi (George Coulouris). With brutal candour the film depicts his gradual decline as his lust for the daughter of a local chieftain and his double-crossing combine to undo him.
Carol Reeds follow-up to his triumvirate of classics, The Fallen Idol, Odd Man Out and The Third Man, Outcast of The Islands was BAFTA nominated in 1953 for Best British Film. Showing a keen continuation of the director's rich visual style and love of projects with psychological complexity, the film is a finely detailed exploration of the stormy waters of imperial colonisation and a vital character study. To celebrate its 50th Anniversary, the film will be released on DVD for the first time in the UK this April.
Extras:
None
DVD Tech specs:
Cert: PG / Feature Running Time: approx. 95 min / Region 2 / Feature Aspect Ratio: 1.33:1 / Colour PAL / Audio: Mono 2.0 / English language / Cat No: OPTD2344 / RRP: £15.99