80s TV series War of the Worlds comes to DVD this April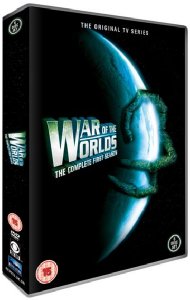 WAR OF THE WORLDS
THE COMPLETE FIRST SEASON
In 1953 Earth experienced a War of the Worlds. Common bacteria stopped the aliens, but it didn't kill them. Instead, the aliens lapsed into a state of deep hibernation. Now the aliens have been resurrected, more terrifying than before. In 1953, the aliens started taking over the world; today, they're taking over our bodies!
H.G. Well's classic Sci-fi novel was adapted for radio by Orson Welles in 1938, famously causing some listeners to believe a real alien invasion was happening! Recently re-imagined in Steven Spielberg's blockbuster starring Tom Cruise, this is the original 1988-1990 TV series that was a sequel to the 1953 theatrical release starring Gene Barry and Ann Robinson.
War of the Worlds: The Complete First Season continues the story of alien attack, human defiance, and interplanetary war in this six-disc box set. Starring Jared Martin (
Dallas
), Philip Akin (
Highlander
) and Richard Chaves (
Predator
). LET THE BATTLE BEGIN!
OUT FOR THE FIRST TIME ON DVD IN THE UK ON 30 APRIL 2012
24 EPISODES - 18 HOURS - 6 DISCS
Catalogue No: REV033.UK.DR
Barcode: 5060285850320
RRP: £34.99
Discs: 6
Certificate: 15 TBC