Universal Pictures unveil new 100th Anniversary logo
UNIVERSAL PICTURES CONTINUES YEARLONG 100th ANNIVERSARY CELEBRATION WITH REVEAL OF NEW ANIMATED LOGO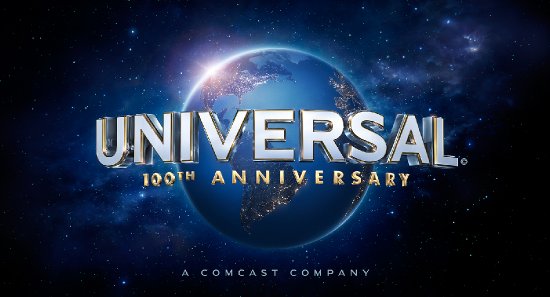 LONDON, MARCH 1st, 2012 -
As part of Universal Pictures' yearlong 100th anniversary celebration, the studio will be revealing an updated animated logo to celebrate this special occasion. The new animated logo will be released worldwide on March 2nd and will be featured on all Universal releases going forward. The new logo honours the authenticity of the brand, and pays homage to the studio's rich film history, cultural impact and global vision (A static version of this logo is featured at the top of this release). This is the seventh incarnation of an animated logo created for the motion picture studio since its inception.
"Our centennial year is the perfect opportunity to create a new logo that reflects our future while honouring our past," said Ron Meyer, Universal Studios President and COO. "Universal's new logo celebrates the studio's extraordinary legacy in creating lasting movie memories, and connecting viewers across the globe."
For the new animated logo design, Universal teamed up with the Academy Award® winning visual effects artists at New Zealand-based Weta Digital to capture Universal's vision for a contemporary logo that stayed true to the company's legacy identity of a "global vision." The visual dynamic of the new logo was inspired by satellite imagery that illustrated a view of the world on a clear night from space. Rather than focusing on the continents and physical boundaries that separate people, the new view is highlighted with tiny points of bright lights that pop across the globe symbolising the thousands of communities brought together by their shared love of film.
In combination with the animated logo, award-winning film composer Brian Tyler (
The Fast and the Furious franchise
) provided a new arrangement of Jerry Goldsmith's classic score, which has accompanied the logo since 1997. The iconic theme of Goldsmith's original composition remains, but the orchestration has been bolstered with a choir, new string parts and drum cadence utilising world percussion instruments.
"We wanted to utilise the classic melody that we all know and bring it into the 21st Century, while still being very respectful of what Jerry Goldsmith did originally," said Tyler. "I wanted it to be a celebration of all the great movies Universal has done over the years— connecting the past to the present."
In addition to the new logo, other key Universal 100th anniversary initiatives include: a major film restoration commitment, home entertainment offerings, theme park celebrations, and a special anniversary gala featuring many of the filmmakers and artists who shaped the studios' history. In addition, the studio will spotlight the 100th Anniversary throughout various worldwide film festivals and other featured events, panels and activities. At the centre of all online initiatives lies a rich, robust website dedicated to all things related to the yearlong celebration of Universal's 100th Anniversary.
For more information, please visit
http://Universal100th.com
.
Discuss this item at the Reviewer Forums:
http://www.dvdreviewer.co.uk/Forums/DVDs-and-Films/t848769/VIDEO-New-Universal-100th-anniversary-logo/page1