Harvey Keitel stars in Abel Ferrara's Bad Lieutenant out in April on Blu-ray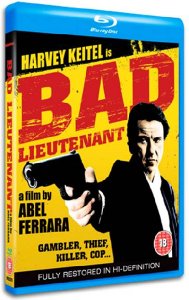 Fabulous Films are
proud to announce
BAD LIEUTENANT
Blu-ray Collectors Edition
Directed by
Abel Ferrara
Available to own
from the 16th April 2012
Gambler, Thief, Killer, Cop...
Starring Academy Award® nominee Harvey Keitel (Mean Streets, Taxi Driver & Reservoir Dogs)
Bad Lieutenant is fully restored in Hi-Definition
****'Keitel gives the bravest performance of his career'
Radio Times
SYNOPSIS
He's the kind of cop who steals drugs off a dead man's body, the kind of father who'd rather feed his drug habit rather than his family. His badge means nothing to him other than the right to act like the very criminals he's supposed to be chasing and the fierce anger beneath his personality is only fuelled by his addiction to heroin, crack and alcohol. However, when a beautiful young nun (Frankie Thorn) is raped on the alter of a local church the bad lieutenant is drawn to her case and into a final desperate attempt to find the true depths of human sin and the power of mercy…
Blu-ray CONTENTS
Full Restored master now in Hi-Definition
Original Theatrical Trailer
Original Directors Cut
Film Introduction by Abel Ferrara
Interview with Director Abel Ferrara
Chapter Points
Stills Gallery
Subtitles
Audio Commentary by Abel Ferrara
Blu-ray SPECIFICATIONS
Running time: 92mins
RRP Price: £19.99
Certificate: 18
Discs : 1
Catalogue No: FHED2876
Bad Lieutenant
is distributed by Fabulous Films and is available from all good DVD stockists from 16th April 2012.